Nous vous présentions l'année dernière la gamme The Quiver de Nitro Snowboards, des planches 100 % poudreuse avec des designs très spécifiques. Aujourd'hui, nous avons souhaité mettre en avant le travail réalisé par le shapeur de surf Chris Christenson, invité par Jeremy Jones de Jones Snowboards à développer une série de boards novatrices inspirées des principes hydrodynamiques du surf, avec pour objectif d'offrir les sensations de glisse les plus pures.
Jeremy Jones, figure emblématique du freeride ayant lancé sa marque Jones Snowboards en 2011, a dédié sa vie à la glisse. Depuis ses premières sensations sur un snow à l'âge de 8 ans jusqu'à aujourd'hui, Jeremy n'a eu de cesse de chercher de nouvelles lignes et de nouvelles émotions. Ce feeling si particulier, à la fois magique et indescriptible, que ne peuvent comprendre que ceux qui l'ont expérimenté, Jeremy Jones le nomme « The Glide ». C'est cette passion et cette recherche perpétuelle qui ont poussé Jeremy Jones a développer la gamme de planches Surf Series.
L'histoire de ces snowboards inspirés du surf nous est merveilleusement racontée dans « Life of Glide », un court-métrage d'une quinzaine de minutes produit par Teton Gravity Research et présenté par la marque O'Neill.
Si l'on connaît Jeremy Jones comme étant l'un des meilleurs freeriders au monde, Life of Glide nous fait découvrir le surfeur aguerri, au style influencé par le « Godfather of Freeriding » Craig Kelly et par le triple champion du monde de surf Tom Curren. On y découvre également Chris Christenson, grand shapeur californien lui-même influencé par la légende du shape Skyp Frye. Chris et Jeremy ont travaillé ensemble pour créer la Mountain Surfer, la Mind Expander, la Storm Chaser et la Lone Wolf. Ces quatre snowboards réalisent un rêve que Jeremy faisait depuis plusieurs années : transposer sur la neige les sensations qu'apporte une planche de surf bien shapée. Moins de frictions, plus de liberté, plus de vitesse, plus de possibilités. Des planches qui peuvent vous emmener là où vous n'avez jamais été avant. Chris Christenson et Jones Snowboards entraînent le snowboard vers une nouvelle dimension.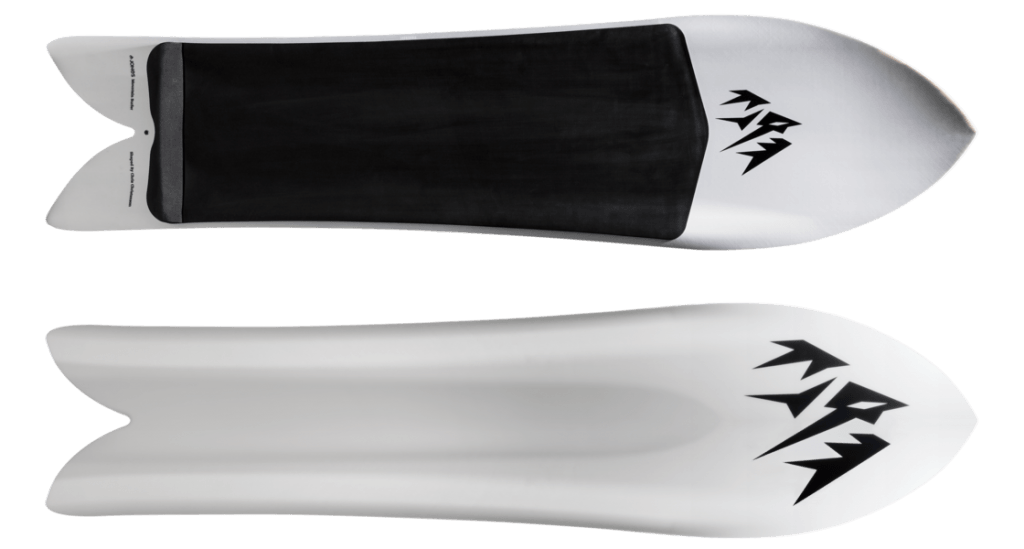 Mountain Surfer 2019 – Prix conseillé : 399, 99 €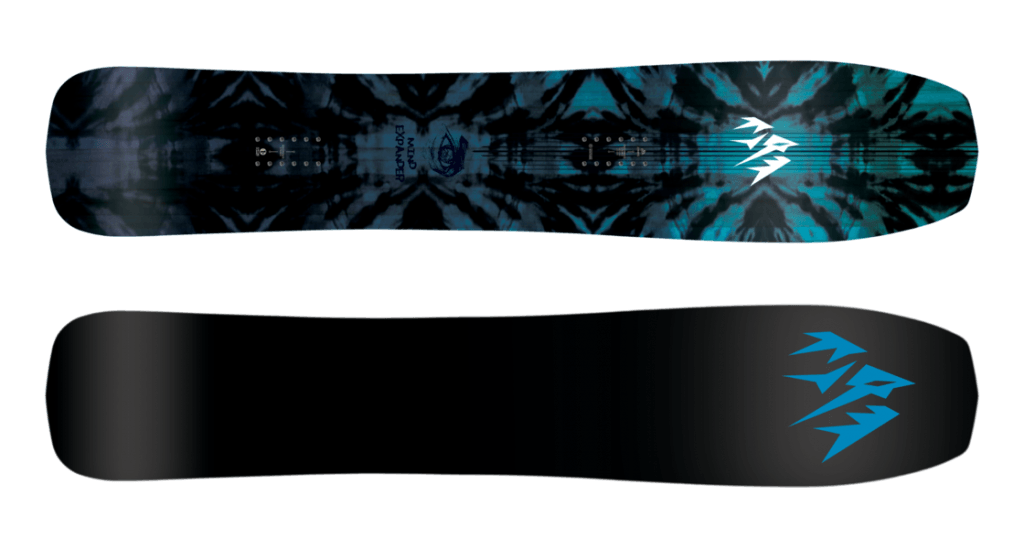 Mind Expander 2019 – Prix conseillé : 549, 99 €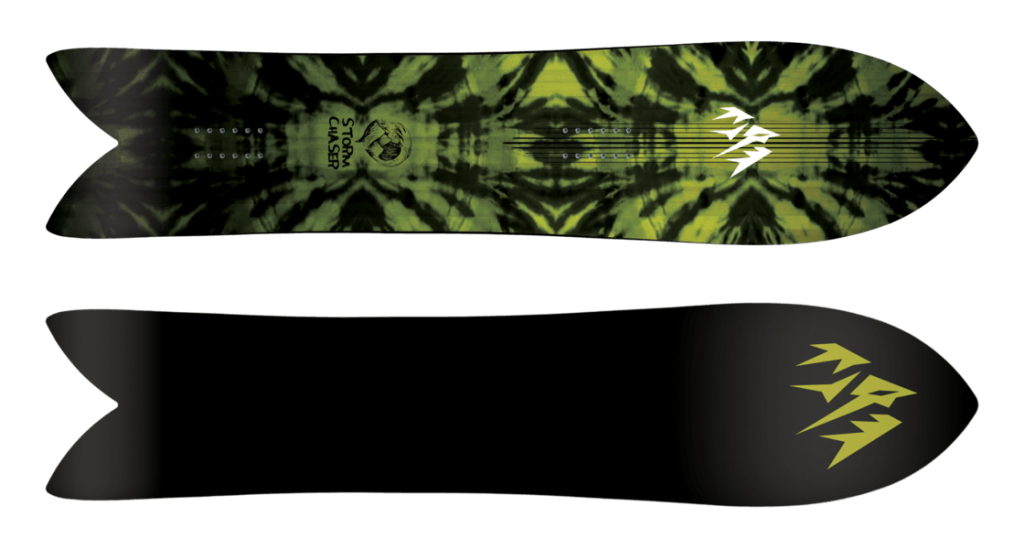 Storm Chaser 2019 – Prix conseillé : 599, 99 €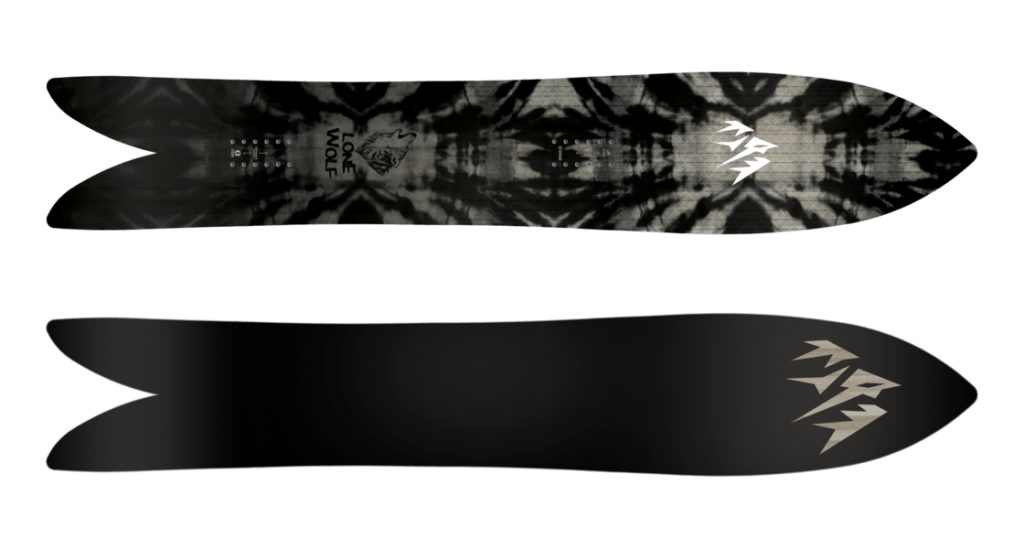 Lone Wolf 2019 – Prix conseillé : 649, 99 €
Un premier prototype pour tester la Surf Series
La Mountain Surfer est la première planche créée par Jeremy Jones et Chris Christenson, dévoilée sous nos yeux ébahis lors de l'hiver 2014/2015. D'abord appelée « Powder Surfer » puis rebaptisée Mountain Surfer l'année suivante, cette petite planche offre l'expérience de glisse la plus pure, sans carres et sans fixations. Courte et effilée, avec un nose volumineux et un swallow tail, elle est également dotée d'un concave directement emprunté aux principes d'hydrodynamique utilisés sur les planches de surf. Ce shape offre une flottaison exceptionnelle, ainsi qu'une glisse fluide et sans friction, à condition d'avoir de la poudreuse à disposition.

Premier prototype de la Mountain Surfer
Transformation de l'essai avec une nouvelle board
Pour l'hiver 2015/2016, la Storm Chaser est venue étoffer la Surf Series. Assez proche de la Moutain Surfer quand on compare les lignes de cote, la Storm Chaser est en revanche dotée d'inserts de fixations et de véritables carres métalliques, pour vous permettre de l'expérimenter sur tous les terrains, neige fraîche comme neige dure. On retrouve cependant le gros volume en spatule, la forme effilée conclue par un swallow tail, ainsi qu'une position très reculée des pieds pour une conduite toute en courbe et en style. Depuis 2017, la Storm Chaser existe également en version Splitboard.

Premier prototype de la Storm Chaser
La Surf Series s'étoffe encore avec la Mind Expander…
Est ensuite arrivée lors de l'hiver 2017/2018 la Mind Expander, une planche dont la forme n'est pas si éloignée de celle classique des snowboards modernes. On retrouve un nose et un tail bien présents, avec des lignes angulaires à l'avant et plus arrondies à l'arrière. Elle se destine aux esprits créatifs qui souhaitent tracer des lignes mélangeant freeride, freestyle et style surf. Jones décline désormais sa Mind Expander en une version Ultra (édition limitée) plus tonique et radicale, une version femme (Women's Mind Expander), une version enfant (Mini Mind Expander) et une version splitboard.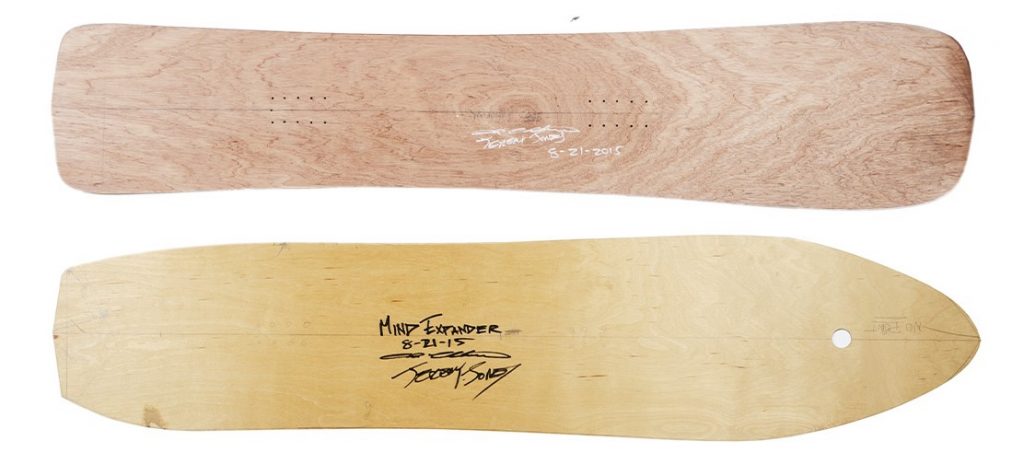 Premier prototype de la Mind Expander
…et la Lone Wolf
Enfin, la Lone Wolf, dévoilée conjointement à la Mind Expander lors de de l'hiver 2017/2018, ressemble étrangement à un « gun » de grosses vagues et se destine au freeride engagé à coup de grands virages à pleine vitesse. Pour cela, rien de mieux qu'une belle longueur de planche avec un rayon de courbe progressif, une position des pieds reculées pour un maximum d'aptitude en courbe, ainsi qu'un beau swallow tail pour le style et l'efficacité en poudreuse.

Premier prototype de la Lone Wolf
Encore quelques mots pour terminer cet éloge à la glisse et à l'art du shape : sachez que comme toutes les planches Jones Snowboards, la Surf Series bénéficie d'une construction soucieuse de son impact environnemental. En effet, on retrouve des topsheets en bio-plastique, des carres et chants ABS recyclés, un fartage des semelles avec la bio wax Wend Natural Wax, etc. Une preuve supplémentaire que l'on peut faire de beaux objets de glisse, performants et modernes, de manière écoresponsable. Ne vous reste plus qu'à trouver le modèle qui vous correspond le plus, celui qui vous inspire et avec lequel vous pourrez vivre de nouvelles sensations sur les pistes ou en freeride. Pour les amoureux de la glisse à l'état pur, pour les amateurs de design et de shape, quel que soit votre âge. Merci Jones Snowboards.
Retrouvez toutes les planches et le matériel Jones Snowboards sur Glisshop.com
Winter Your Life !