Annulé en 2020 pour cause de crise sanitaire, le High Five Festival revient de plus belle cette année avec en prime un vrai (faux) anniversaire à fêter ! Pour cette dixième édition, le High Five vous donne rendez-vous du 1er au 3 octobre 2021, dans les jardins de l'Impérial Palace à Annecy…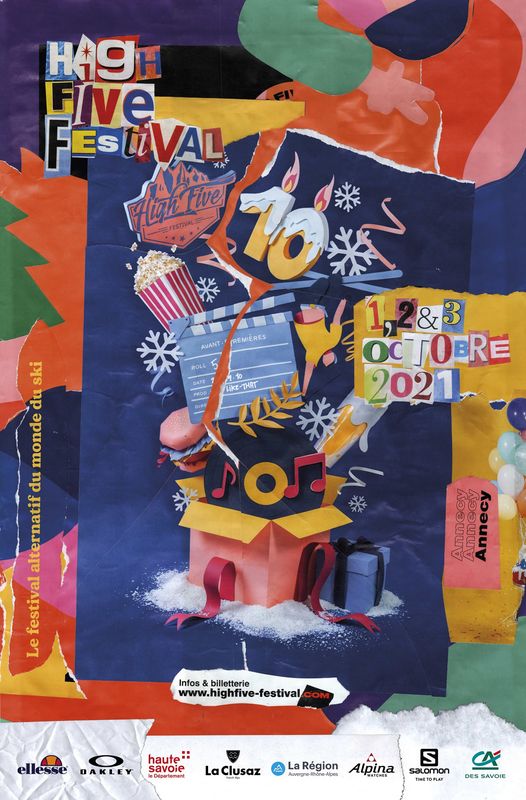 Le High Five c'est tout simplement le rendez-vous incontournable des amoureux de la glisse ! Trois jours intenses avec des projections de films de ski en avant-première (en salle et en plein air), des spectacles d'humour en stand-up, des animations de folie, des masterclass, des conférences, des dédicaces, des concerts et des soirées !
Glisshop et le village du High Five
Découvrez les nouvelles collections de l'hiver 2022 et faites le plein de goodies sur le village du High Five. Pas moins de 30 marques et stations seront présentes :
Anthésite, Curway, Armada, Dynastar, Departement 74, Dakine, ESF, Evo 2, Kimberfeel, Chamonix, Headict, Izipizi, Le Grand Bornand, La Clusaz, La Plagne, La Sambuy, Julbo, Les Gets, L'Armure Française, Oakley, PAG, Picture, Rossignol, Savoie Mont Blanc, Mountain Riders, Volkl, Pass Montagne, Arêches-Beaufort, Moka Mag…
La team Glisshop sera bien évidemment de la partie avec sur notre stand une web TV. Elle sera animée par la double médaillée olympique Marie Martinod qui va pour l'occasion interviewer les nombreux pros-riders présents sur le festival. Passez nous faire un petit coucou sur le stand, on vous réserve des surprises et plein de cadeaux !
En attendant de pouvoir vous gâter sur place, Glisshop vous fait gagner un week-end VIP au High-Five !!! Celui-ci comprend 2 nuits avec petits déjeuners à l'Impérial Palace 4* + les High Pass pour 2 personnes.

Vous pouvez également jouer sur notre compte Instagram ==> @Glisshop
Sur les écrans du High Five 2021
Cinéma Pathé
Le 7ème art reste l'essence du High Five Festival. Sur les écrans : des montagnes, de la neige et de la glisse bien évidemment. Direction les salles obscures du cinéma Pathé pour 11 séances avec dans chacune un cocktail d'avant-premières mondiales, de documentaires, de courts et longs métrages, de road movies, de web épisodes et de clips inédits…
Tarif : 12€ la séance, pop-corn compris !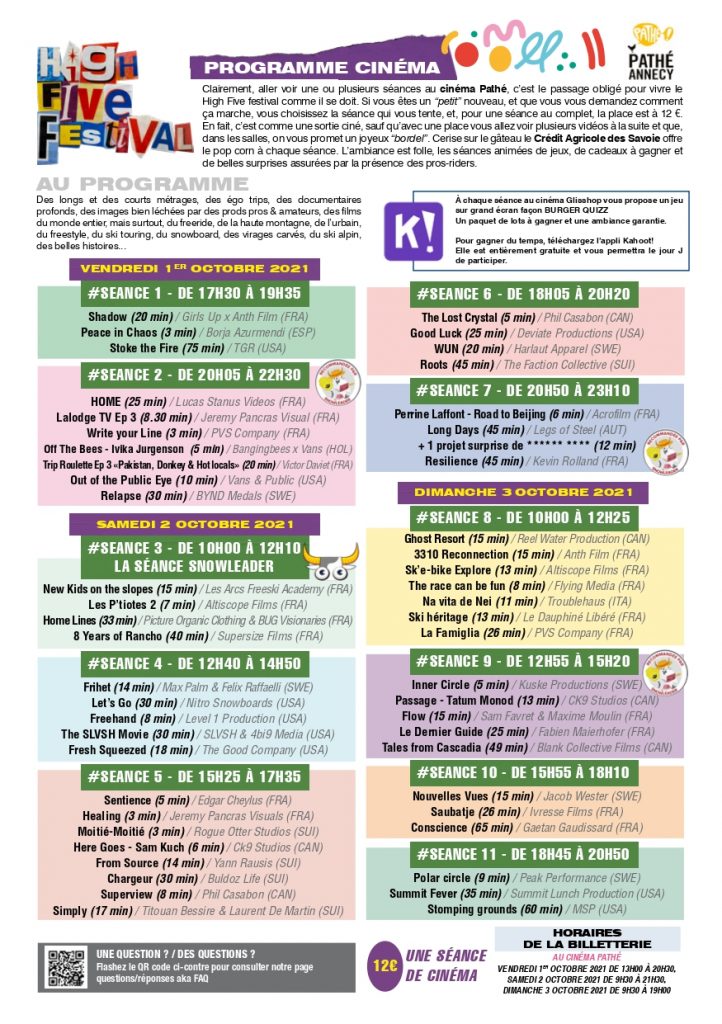 Cinéma de plein air
Face au succès rencontré en 2019 avec son cinéma de plein air, Le High Five récidive cette année avec 49 films diffusés sur un écran géant de 5m50 x 3m ! Durant les trois jours de festival, profitez des projections en vous installant sur l'un des 150 transats avec vue sur le lac d'Annecy…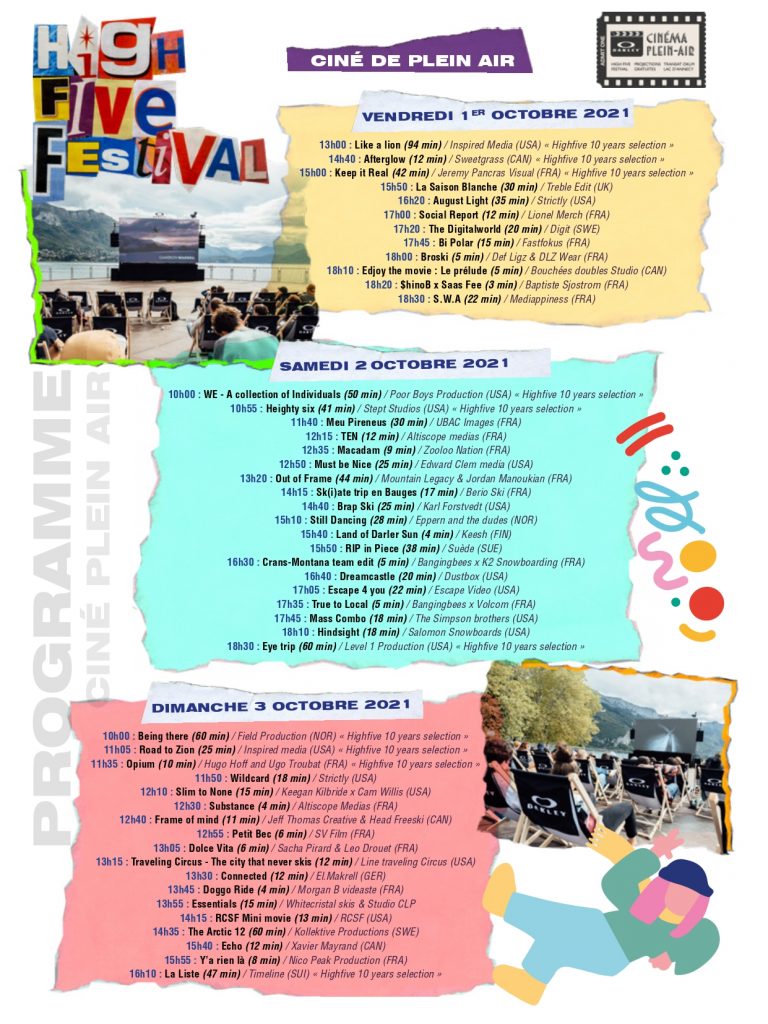 Un peu d'humour…
C'est la 3ème année que des humoristes s'invitent sur la scène du High Five Festival. Retrouvez Tom Villa le vendredi soir et Laurie Peret le samedi soir.
Lieu : Imperial Palace – Salle de l'Europe
Tarifs : 25 €
Scènes musicales du High Five 2021
Un anniversaire ça se fête en musique ! Pour célébrer sa 10ème édition, le High Five Festival compte bien vous faire danser jours et nuits. Rendez-vous du côté de l'Impérial Palace, du Pop Plage, du Moon, des jardins et de la plage de l'Impérial pour une programmation aux petits oignons, en partenariat avec le Brise Glace.

Pour accéder aux concerts, munissez-vous du High Pass ! La billetterie est ouverte !!!
Le High Pass c'est le précieux sésame qui vous ouvrira les portes du musée, des conférences, des animations, du village des marques, des dédicaces, du ciné en plein air et des concerts. (! Carte d'identité & Pass sanitaire obligatoires !)
High Pass 1 jour (Vendredi ou Samedi) – 10€
High Pass dimanche – 5€ (uniquement en vente sur place) 
High Pass 3 jours – 15€
High Pass 3 jours pour 4 personnes en Early Booking – 45€ (Tarif valable uniquement jusqu'au 19 Septembre)
High Pass Gratuit -6/+65 ans – Gratuit (uniquement en vente sur place) 

Les soirées du High Five 2021
Direction le Pop Plage et le Moon pour les deux soirées officielles du festival ! Le High Five Festival célèbrera son 10ème anniversaire lors la soirée d'ouverture du vendredi mais aussi pendant la soirée de clôture du samedi. À ne manquer sous aucun prétexte…
Tarif : 15€ par soirée
Masterclass, Conférences & Dédicaces
Masterclass 2021
Passionné par le digital, la photographie, l'art… Venez apprendre aux côtés des meilleurs !
L'événementiel par Gaylord Pedretti – samedi 02 octobre à 10h
Stopmotion & audiovisuel par Victor Haegelin aka Patagraph – samedi 02 octobre à 10h
Pilotage de drone par Stephane Couchoud – samedi 02 octobre à 10h
Photographie & l'art de la retouche numérique de négatifs N&B par Jérôme Tanon – samedi 02 octobre à 13h30
Vidéaste & brand content par Fab Maierhofer – samedi 02 octobre à 14h
Ecoresponsabilité & Performance par Mathieu Crepel – samedi 02 octobre à 15h
Communication digitale par Thomas Butty – dimanche 03 octobre à 10h
Sécurité en montagne par Tony Lamiche – dimanche 03 octobre à 10h
Tarif : 19€ pour 2h de masterclass
Conférences 2021 :
Cette année, 5 conférences seront données dans la salle de la Rotonde de l'Impérial Palace
Vendredi 1er Octobre à 16h : « Les Passeurs imaginent la montagne de demain : design fiction et futurs souhaitables » animée par Mathieu Ros, Laureline Choppard & Anne Galienne
Samedi 2 Octobre à 11h : « Du Covid à Paris 2024, peut on faire de la France une nation sportive ? » animée par Fred Bangué (ancienne athlète internationale, vice championne du monde du 4×100 m) 
 Samedi 2 Octobre à 14h : « êtes-vous courageux (courageuse)? » animée par Gérard Guerrier
Samedi 2 Octobre à 16h : « We the Power, l'avenir de l'énergie appartient aux citoyens » Patagonia, animée par Marc Mossalgue (Energie Partagée), Zoe Hart et Matthias Proud (Toits des cimes, @toitsdescimes)
Dimanche 03 octobre à 11h « Comment faire rimer compétition, partage et culture glisse avec le monde étudiant ? » animée par Baptiste Taloud (président d'AltiGliss), Chloé Bouhali (vice-présidente) et Armand Cointe (responsable partenariats de l'association).
Dédicaces 2021 :
Le High Five Festival c'est aussi l'occasion de rencontrer vos pros-riders préférés lors des séances de dédicaces. Seront présents cette année :
Henrik Harlaut, Tanner Hall, Markus Eder, Kevin Rolland, Perrine Laffont, Torin Yater-Wallace, Antti Ollila, Matej Svancer, Birk Irving, Chris Logan, Fab Maierhofer, Antoine Adelisse, Sam Favret, Victor Daviet, Victor Galuchot, Isaac Simhon, Laurent De Martin, Elisabeth Gerritzen, Sarah Hoefflin, Leo Taillefer, Coline Ballet Baz, Thibault Magnin, Oscar Mandin, Hugo Laugier, Ben Buratti, Jackie Paaso, Aurelien Lardy, Juliette Wilmann, Max Palm, Edgar Cheylus, Astrid Cheylus, Ugo Troubat, Buldoz Crew , Valentin Morel, Noah Albaladejo, Dan Hanka, Jacob Wester, Pierre Houticq, Tim Sivignon, Kadi Gomis, Manon Loschi, Jeremy Prevost, Jules Bonnaire, Coline Ballet-Baz, Enak aka Rancho, Antoine Deneriaz, Julien Lizeroux…
Animations & Food Trucks
Comme à chaque fois, les jardins de l'Impérial seront truffés d'animations en tous genres : live painting, tyrolienne du 3ème étage de l'Impérial, trampolines, spot de skimboarding , dropbag, zone de parkour, pas de tirs biathlon, simulateur de ski, catapulte, escape game, simulateur de bobsleigh, skatepark et pour finir l'expo à ciel ouvert « Petits Fours Galerie » signée Art By Friends… Tout ça accessible avec votre High Pass !
Petits creux ou grosses fringales, les gourmands trouveront de quoi se restaurer du côté du Pop Plage, sur les bords du lac.
Au menu de ce High Five 2021 :
Cornet de frites façon ch'ti chez Frit'land
Burgers chez The Roster
Mexicain chez Los Primos
Hot-dogs de Las Chicas
Crêpes de La Gavottine
Bokits et saveurs exotiques Aux Petites Antilles
Bowl de l'Atelier Nomad
Churros
Rendez-vous au High Five…
Winter Your life !