Sans parler d'aller passer votre première étoile en skiant sur la voie lactée, imaginez toutefois que demain on ride dans l'espace… Et bien il y a fort à parier que Fischer inventerait alors les premiers skis à propulsion photonique pour aller encore plus vite ! En attendant, revenons sur terre avec les skis RC4 The Curv DTX et les skis RC4 The Curv TI qui comme tous les modèles de fusées, bénéficient d'une construction ultra technique pour vous permettre d'atteindre des vitesses phénoménales.
Les RC4 The Curv DTX, des skis de vitesse subsonique polyvalents
S'il n'est pas inhabituel pour d'anciens skieurs pro de participer à des essais produits, il est en revanche beaucoup plus rare qu'une marque donne les clés de son appartement R&D à trois anciens médaillés en Coupe du Monde. C'est pourtant ce que Fischer a fait en confiant le projet de construire le ski grand public le plus performant possible, aux champions Mike Von Grunigen, Kristian Ghedina et Hans Knauss.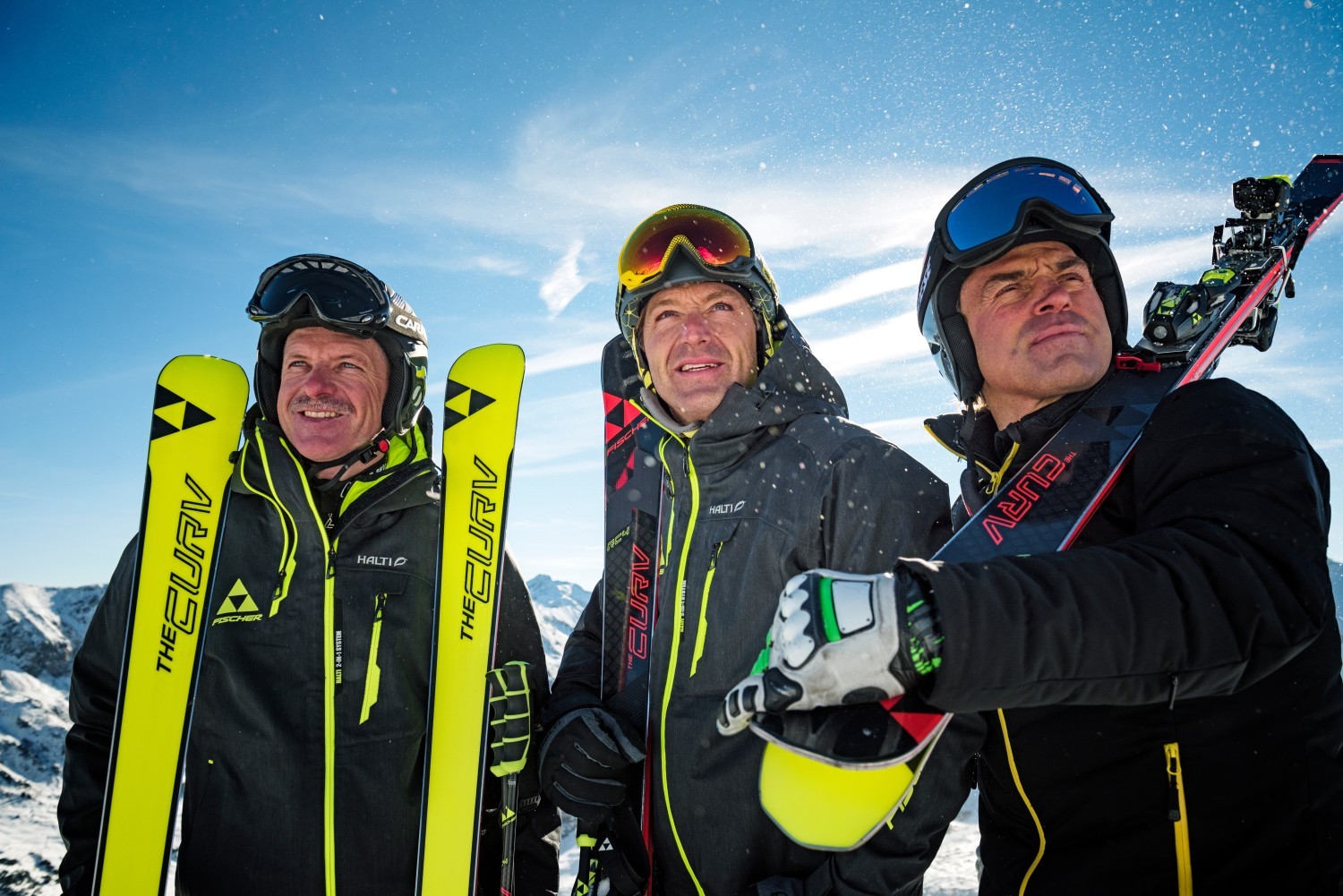 Avec la superbe boîte à outils technologiques Fischer, nos trois compères ont donc imaginé le RC4 The Curv DTX. Et voilà le résultat !

Un ski technique dont le niveau de performances n'est pas sans rappeler celui du matériel en coupe du Monde. Largeur au patin de 72 mm, cambre traditionnel et rocker avant, noyau en hêtre et peuplier. Doté de couches de Titanal en surface, de lamelles de carbone Diagotex, le RC4 The Curv DTX présente une excellente rigidité latérale et une stabilité en torsion optimisée. Toute sa construction participe à contrer les effets de la force centrifuge afin que l'engagement en virages puisse être efficace à hautes vitesses. Le RC4 The Curv DTX déploie des lignes de cotes à triple rayon pour accentuer l'entrée et la sortie des virages. Exceptionnellement agile et aussi solide que stable, le RC4 The Curv DTX est l'apanage de sportifs réguliers qui cherchent la même intensité que les compétiteurs pro aussi bien en virages serrés qu'en grandes courbes.
Prix avec fixation : 799.90€ – Rayon de courbe 16 m – Ligne de cotes 121/72/106 en 171 cm
Les Fischer RC4 The Curv TI, skis dynamiques, rois du slalom
Avec l'ensemble de ses spécificités : Triple Radius System, Free Milled Titanium, Concave sidewall, etc., le ski Fischer RC4 The Curv TI se veut quant à lui un peu plus tolérant. Néanmoins, fidèle à la gamme The Cruv, il affirme un fort caractère, prouvant qu'il est taillé pour le slalom.

S'adressant à des skieurs d'un bon voire très bon niveau technique qui veulent un ski piste performant et sportif, le RC4 The Curv TI affiche une largeur au patin de 68 mm. Lui aussi bénéficie d'un noyau en hêtre et peuplier avec double couche de titane, renforcé avec Air Carbon TI 0.5. Il en résulte une accroche optimale des carres et une excellente fluidité. Avec un cambre traditionnel et un rocker avant qui lui confèrent un bon comportement alpin tout en facilitant l'entrée en courbe et le déjaugeage, un rayon de 13 mètres qui promet une réactivité maximale en virages courts et serrés, toute la conception high-tech du Fischer RC4 The Curv TI contribue à son dynamisme irréprochable et fluide, et à une réelle stabilité en virage.
Prix avec fixation : 599.90€ – Rayon de courbe 13 m – Ligne de cotes 121/68/102 en 164 cm
Les Fischer RC4 The Curv 130, la précision au bout des orteils
Pour diriger le plus efficacement possible les skis RC4 The Curv DTX et RC4 The Curv TI, rien ne vaut le confort des Fischer RC4 The Curv 130. Véritable poste de pilotage, ces chaussures de ski et leur petit volume chaussant, vont vous permettre de contrôler vos spatules et d'aborder les pistes avec une grande agilité.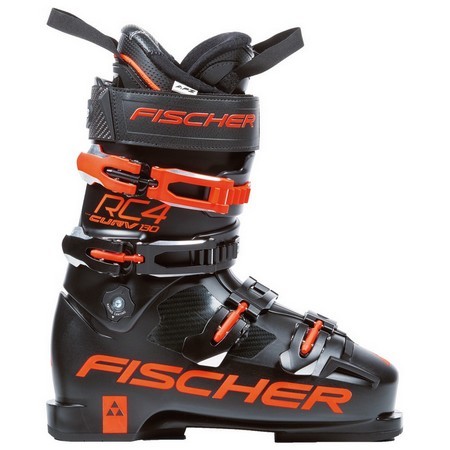 Le chausson à lacet offre un réglage personnalisé. Ses zones Active Fit procure un soutien actif du pied. La languette, dotée d'une construction spécifique, permet de réduire les points de pression sur le cou-de-pied et au niveau de l'os naviculaire. La coque Precision Steering contribue à la maîtrise des skis. Elle est complétée par l'utilisation d'Aramide thermoformable qui assure un flex de 130. Le large strap velcro et les quatre boucles à réglages micrométriques offrent l'ajustement le plus précis de la chaussure à votre pied. Les semelles Grip Sole garantissent un maintien irréprochable en terrain difficile. Leur profil antidérapant vous permettront de vous déplacer sur la neige dure en toute sécurité.
Si vos pieds fins ont donc besoin de chaussures de ski précises et performantes, arrêtez de chercher, vous avez trouvé ! Avec la RC4 The Curv 130 vous allez enfin découvrir ce que transmission de puissance veut dire !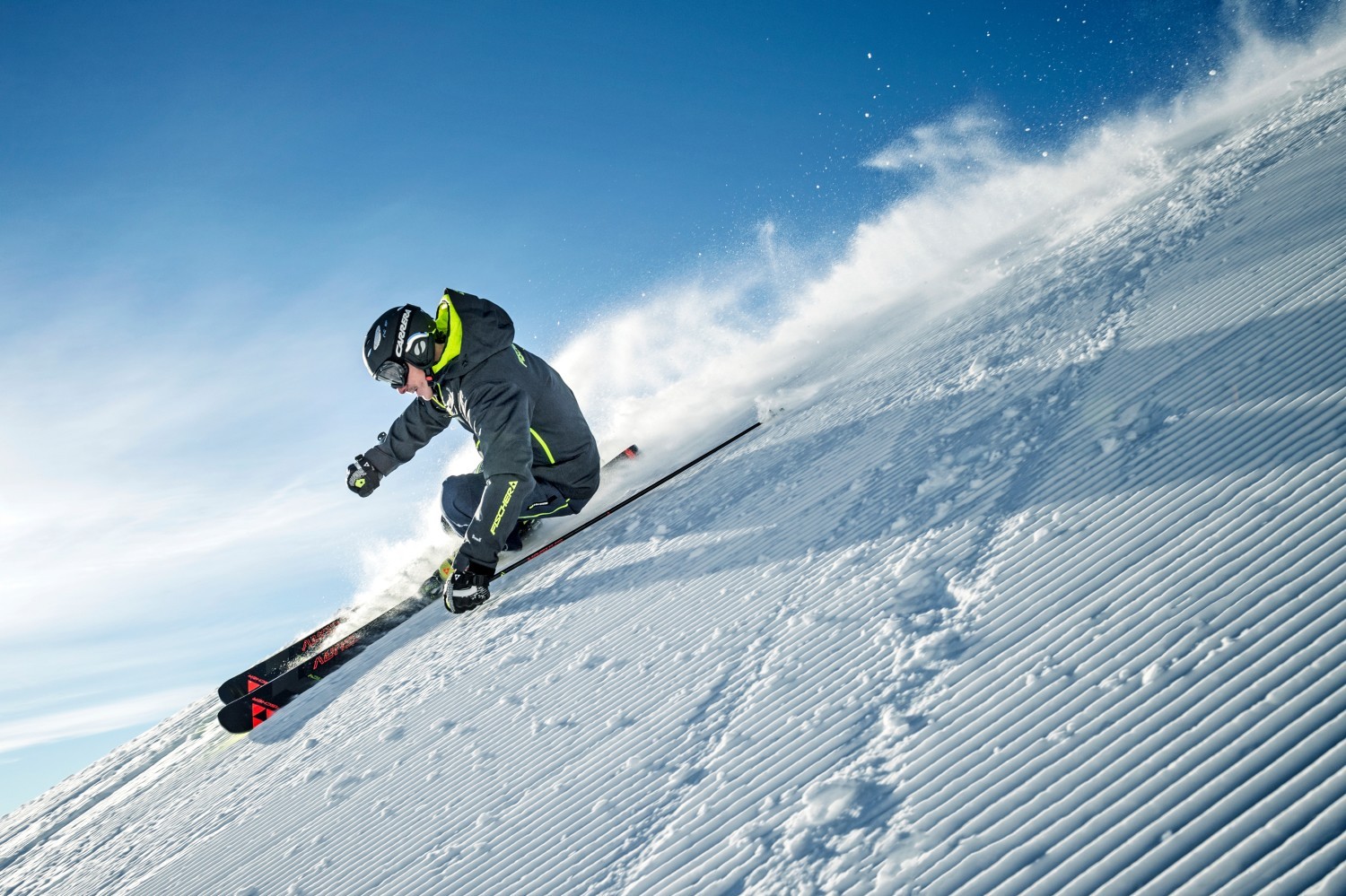 Winter your life !