Le dernier court-métrage de ski Faction, Zermatt To Verbier, nous donne un petit cours d'histoire tout en nous en mettant plein les mirettes avec des paysages à couper le souffle et des lignes de freeride qu'on regarderait en boucle sans se lasser. L'action se passe en Suisse, entre Zermatt et Verbier, sur le parcours historique de la « Patrouille des glaciers« .
Pour comprendre ce court-métrage, il faut d'abord comprendre ce qu'est la Patrouille des glaciers. Il s'agit d'une course militaire de ski-alpinisme se courant par patrouilles de trois personnes et reliant Zermatt à Verbier, en passant par Arolla. Le tracé de 53 kilomètres suit la route la plus directe entre Zermatt et Verbier. Un chemin entouré par les montagnes et de nombreux sommets culminants à plus de 4 000 mètres d'altitude. Les deux premières éditions de cette course ont eu lieu en 1942 et en 1943, mais un accident causant le décès de trois participants lors de l'édition 1943 mit un terme à cette course. Ce n'est que 40 ans plus tard en avril 1984 que la course fût relancée. Elle a désormais lieu tous les deux ans.
Malgré l'annulation de l'édition 2020 pour cause de Coronavirus, Sam Anthamatten, Anna Smoothy, Elisabeth Gerritzen et Yann Rausis ont décidé de tout de même réaliser le parcours. Sans chronomètre ni pression, les quatre freeskieurs suisses et membres du team ski Faction ont pu profiter pleinement des nombreuses lignes à skier qu'offre le parcours. On vous laisse découvrir le résultat par vous même, dans le court-métrage de 16 minutes Zermatt To Verbier.
Nous avons eu la chance d'échanger avec Anna et Sam autour de cette aventure, de la Patrouille des Glaciers et de leurs prochains projets. Anna est freeskieuse et directrice marketing chez Faction. Sam Anthamatten est freeskieur pro, il skie actuellement pour Faction, The North Face, Swatch et Julbo.
Glisshop : Combien de temps à duré cette aventure ?
Anna : Le trip s'est étalé sur 7 jours. Nous avons d'abord tout traversé et skié quelques lignes, puis nous sommes retournés en arrière pour pouvoir mieux explorer certaines zones.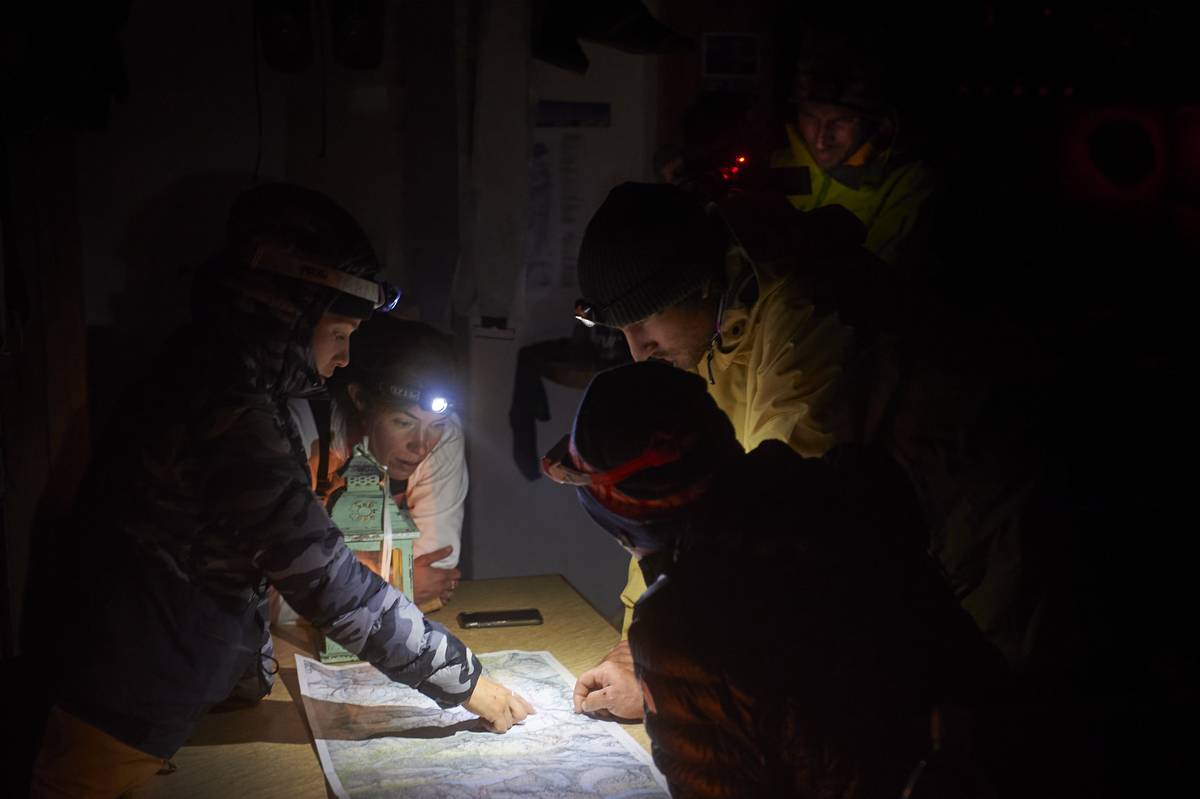 Glisshop : Quelles ont été les moments les plus marquants ? Qu'est-ce qui restera gravé dans ta mémoire, pour le meilleur comme pour le pire ?
Anna : Le meilleur souvenir que j'ai de ce trip, c'était la sensation d'être seule au monde. Les Alpes suisses peuvent être très fréquentées, et le fait d'avoir ces incroyables montagnes pour nous seuls a été quelque chose de vraiment particulier pour moi. Le pire était de devoir attendre la fin du confinement pour pouvoir partir, car c'était un printemps assez chaud et la neige se détériorait très rapidement. Cela a rendu impossible à skier certaines lignes que nous avions très envie d'essayer. Je pensais que ce trip me permettrait de cocher pas mal de cases dans ma liste de lignes à skier, mais au final je repars avec une liste plus longue qu'avant.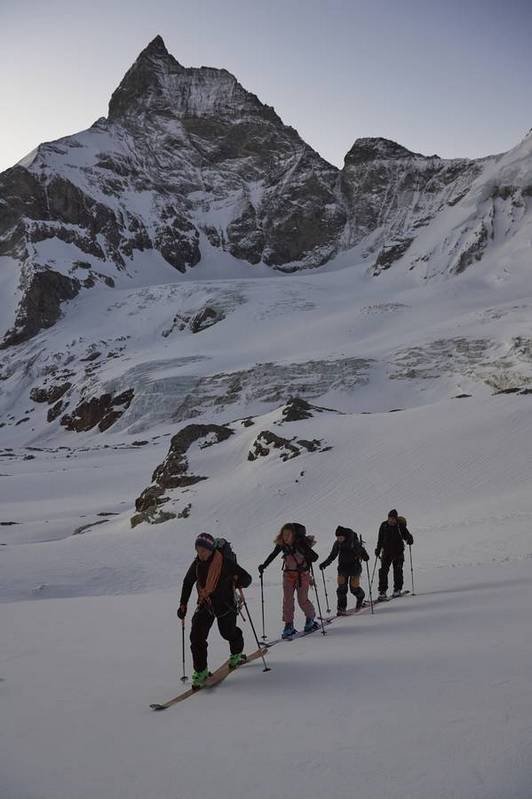 Sam : Le pire moment était notre lenteur du premier jour, le fait de marcher puis de randonner à skis depuis Zermatt jusqu'à Schönbielhutte (NDLR : à environ 10 km à l'ouest de Zermatt). Le printemps était chaud, donc le faible enneigement nous a obligé à prendre un chemin beaucoup plus long. Nous avions également à transporter beaucoup d'équipement pour pouvoir tenir plusieurs jours en montagne, donc nous n'avons pas atteint Schönbielhutte dans le temps que nous nous étions fixés.
C'est difficile de choisir le meilleur moment car il y a eu tellement de moments spéciaux pendant ce trip. Notre arrêt à la Cabane de Dix était épique, je n'ai jamais mangé de nourriture aussi bonne en montagne : paella au safran avec du bœuf espagnol affiné, saumon séché au citron et risoni aux câpres. La plupart de ces mets ont été amenés au refuge par Balz Roth, le président du conseil de Faction Skis.
Un autre moment inoubliable a été la dernière ligne du trip. Je me tenais seul sur le glacier au bord du Mont Blanc de Cheilon, Elise, Anna et Yann avaient déjà fait leurs traces jusqu'au bas du glacier. C'était une belle expérience de paix et de tranquillité en montagne juste avant de dropper. Ce n'était pas la meilleure ligne, ce n'était pas la neige parfaite, mais ce moment était vraiment particulier par la simple beauté de la nature.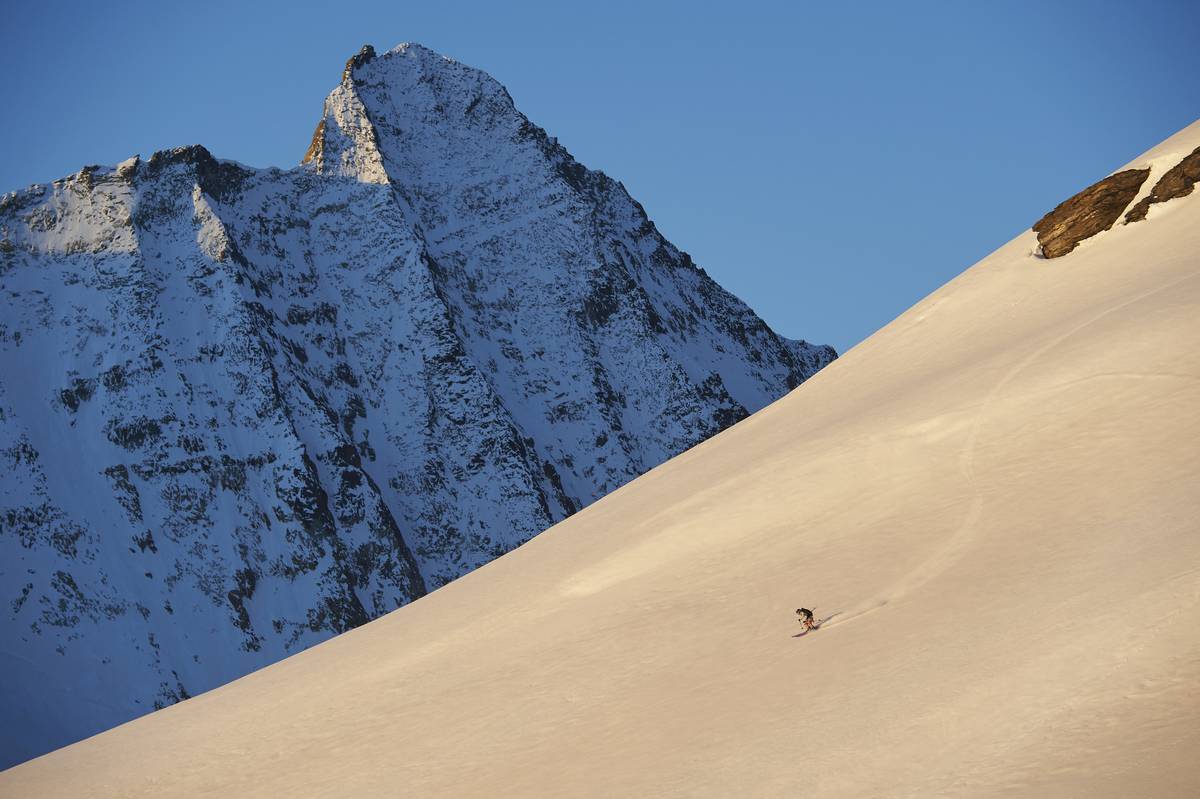 Glisshop : As-tu déjà participé à La Patrouille des Glaciers ?
Anna : Non, mais Sam a une belle histoire à raconter à ce sujet !
Sam : En 2010, j'ai été appelé à la dernière minute pour participer à la PDG. J'ai eu assez de temps pour faire 4 ou 5 entraînements de ski de rando, mais je n'étais clairement pas le coureur le plus compétitif du jour. Mon frère Martin était là pour gagner. C'est un randonneur solide et il s'était entraîné dur. C'est assez hilarant de savoir qu'il est parti de Zermatt trois heures après moi et qu'il est arrivé à Verbier 3 heures avant moi… Il a battu le record de vitesse de l'époque en seulement 5 heures et 52 minutes, ce qui est vraiment très rapide en comparaison des 11 heures et 45 minutes qu'il a fallu à mon équipe.
Glisshop : Quels sont tes projets pour 2021 ?
Anna : Après une dizaine d'hivers consécutifs, je suis retourné en Nouvelle-Zelande pour une année d'études. Mes loisirs actuels sont le vélo et l'escalade, et dans six mois je serai de retour sur les skis dans les alpes néo-zélandaises.
Sam : Cet hiver je termine un projet de film avec Jeremie Heitz – La Liste II. Cela fait maintenant plusieurs années que nous filmons pour ce projet. Nous voulions le finir l'année dernière mais la COVID-19 en a décidé autrement. En plus de filmer pour La Liste II, je travaille sur le prochain film Faction et d'autres projets pour The North Face. L'hiver s'annonce chargé !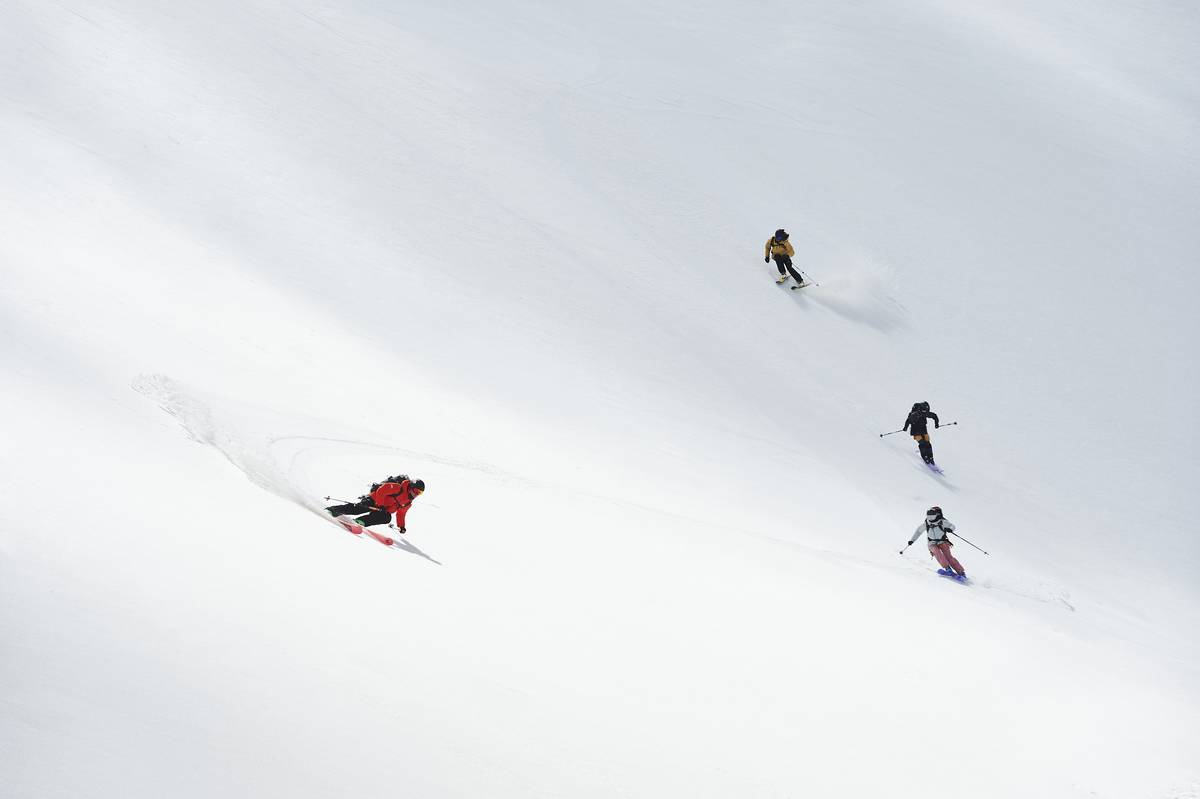 Nous remercions chaleureusement Anna Smoothy et Sam Anthamatten d'avoir pris le temps de répondre à nos questions, et merci à eux ainsi qu'à Elisabeth Gerritzen et Yann Rausis de nous faire rêver avec de si belles images !
#WinterYourLife