Une halte dans le temps… Morzine est restée figée au temps des toits d'ardoises, des murs de pierres et de bois, et des balcon ajourés de cœurs et de fleurs. Une petite station haut-savoyarde à mi-chemin entre le Lac Léman et le Mont-Blanc, dominée par le massif du Chabelais qui semble veiller d'une main bienveillante sur l'authenticité et le caractère chaleureux de la belle.
A Morzine on prend le temps de vivre, de s'évader… si bien que vous en oublierez peut-être l'objet de votre visite. Morzine c'est un panel d'activités surprenants : ski de fond et de randonnée, promenades en raquettes, en chiens de traîneaux ou en cheval, cascade de glace, patin à glace, parapente, plongée sous glace, luge, motoneige, espace aquatique, yooner, ski-jôring… Il y'en a pour tous les goûts.
Les jours où la météo se fait plus hostile, prenez le temps de vous perdre dans les rues et ruelles du vieux bourg, faites une halte à l'étable, puis à la fruitière de Morzine et si le cœur vous en dit poursuivez votre promenade jusqu'à l'atelier d'ardoises. Le froid vous a creusé… n'hésitez pas à vous arrêter dans un petit restaurant typique qui vous proposera les mets locaux à bon prix. L'occasion d 'échanger quelques mots avec les anciens du pays qui s'emploient depuis des générations à préserver leur village et leur station hors de portée des tumultes envahissants de ces voisines alpines.
Revenons-en à nos moutons quand même… à l'origine vous étiez venus pour skier non ? Morzine c'est un domaine skiable, ou plutôt deux… Morzine-Les Gets tout d'abord, 180km pour 64 pistes, Les Portes du Soleil ensuite, regroupant douze stations et offrant plus de 650km cette fois-ci, et 286 pistes.
Un espace étudié pour permettre à toute la petite famille d'évoluer à son rythme et en toute sécurité. En effet, avec un niveau très accessible le domaine de Morzine-Les Gets sera parfait pour les débutants cherchant à s'initier, ou pour les skieurs plus confirmés adeptes d'une pratique loisir. Les plus expérimentés et sportifs pourront, quant à eux, exprimer à loisir leur talent, en rejoignant les pentes plus accidentées du domaine d'Avoriaz via le télécabine de Super Morzine. Pour les plus jeunes, une nouveauté cette année ! Le Babysnow qui vient compléter la large gamme des activités de glisse proposée aux enfants. Une activité proposée en exclusivité à Morzine avec l'ESF, et qui permet aux bambins de moins de 3 ans de connaître les premiers plaisirs de la glisse, et de cotoyer leurs parents sur le domaine skiable via une trottinette des neige.
Quoi dire de plus… c'est bien simple, Morzine recoupent toutes les qualités pour faire de vos prochaines vacances en famille un souvenir inoubliable. Ne partez pas un week-end où alors assurez-vous d'avoir une semaine de vacances après… Morzine est de ces stations qui vous poussent à prolonger votre séjour.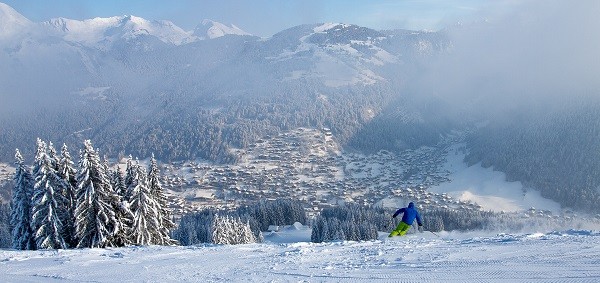 Domaine skiable & autres activités nordiques
Ouverture programmée du 21 décembre 2013 au 13 avril 2014
Ski alpin :


Morzin-Les Gets :
180 Km de pistes/64 pistes
Haut des pistes : 2.466 m
Bas des pistes : 1.000 m
Remontées mécaniques : 49
• 5 pistes vertes


•

23 pistes bleus


•

27 pistes rouges
• 9 pistes noiresPlan des pisteForfait :
Journée : Ad. 35 €
Enf. 26 €
Forfait ski 6 jours : Ad. 172 €
Enf. 130 € Domaine de rattachement :
Les Portes du Soleil
(650km/280 pistes)
Forfait :
Journée : Ad. 47,5 €
Enf. 36 €
Forfait ski 6 jours : Ad. 237.5 €
Enf. 178 €Tarifs de tous les forfaits

Ski de fond :


115 Km de pistes
115 km de skating

Autres activités :


Sentiers raquette : 115 km
Sentiers piétons (damé) : 95 km
Snowpark : 1 (11 sur l'ensemble du domaine Les Portes du soleil + 1 half-pipe)
Boarder-cross : (5 sur l'ensemble du domaine Les Portes du soleil)
Piste de luge : 1
Les bons plans
• Valable toute l'année :
– 10% sur les forfaits Morzine-Les Gets, valable pour 4 pers et acheté sur www.skipass-morzine.com
– 10% sur les forfaits Portes du soleil, valable pour 2 adultes + 2 enfants (jusqu'à 19 ans inclus).
• Rock the Pistes Festival du 26 au 30 mars 2014. Le meilleur de la scène pop/rock francophone et internationale sur les pistes. Des concerts
gratuits en journée sur des scènes éphémères en pleine nature sur le domaine skiable, accessibles à ski … et avec vos forfaits.
Profitez du pack « Rock The Pistes » pour faire le plein de son et de ski : Studio 4 nuits pour 4 personnes à Morzine + Forfait de ski Portes du Soleil 5 jours + concerts gratuits chaque jour sur les pistes, pour 281€ par personne.
• Fin de saison. Profitez des neiges de printemps et de forfaits à tarifs réduits à partir du 29 mars :
– 20% sur les forfaits Morzine-Les Gets
– 15% sur les forfaits Les Portes du Soleil.