Au deux pas d'Annecy, à l'endroit même où dans une lutte au corps au corps le massif des Aravis se fait ceinturer par les Trois Grands Lacs, prend place La Clusaz. Une petite station haut-savoyarde qui ne manque pas d'éveiller la curiosité de ses visiteurs. La rumeur courant que la belle aurait des troubles schizophrènes.
En effet, alors qu'elle revêt ses plus beaux apparats de village montagnard, laissant aux autres stations alpines l'exclusivité des immeubles imposants et disgracieux, elle n'en demeure pas moins en perpétuelle régénérescence, et est entrée depuis deux ans dans le très select « Top of the French Alps ». Engagée depuis plusieurs années dans le renouvellement de son parc de remontées mécaniques, la petite station haut savoyarde, ne se repose pas sur ses acquis, elle se renouvelle. Elle s'emploie, également, à faire vivre en continuité son domaine, à travers divers animations comme les Full moon de ski au clair de lune, le défi Foly, ou encore l'épreuve de waterslide où de joyeux déjantés s'élancent sur un lac glaciaire… Pour vos soirées, Bars lounge et restaurants typiques vous permettront de côtoyer la chaleur et la joie de vivre de charmants « autochtones » … Autant vous dire que si vous êtes de nightclubers en quête de soirées déjantées, passez votre chemin, ce n'est pas vraiment le genre de la maison. Par contre si vous affectionnez les moments chaleureux entre potes autour d'une bonne table, assis là juste au coin du feu, avec un verre de vin chaud à la main, La Clusaz pourrait être le cadre idéal pour refaire le monde.
Le dynamisme au service de l'authenticité vous n'avez pas rêvé…
Pour ce qui est du ski en lui même, vous pourrez profiter de sa situation géographique idyllique qui en fait une des stations des Alpes les plus enneigées de l'année avec un cumul saisonnier de 6 mètres, plus besoin de monter à 3.000 m pour profiter du domaine jusqu'à fin avril. 220 km de sentiers balisés seront à portée de vos spatules, avec plus de 1.500 m de dénivelé. Un domaine à la fois technique pour les skieurs les plus aguerris mais aussi adapté et sécurisé pour convenir à une pratique loisir et familiale.
Vous partez au ski, mais il vous arrive de vouloir sortir du charivari de la station, de prendre le grand air loin des écoles de ski rugissantes postées au pied des remontées mécaniques. Parfait, La Clusaz ne demande qu'à vous faire découvrir une autre facette de sa personnalité. Le cadre préservé et naturel de la station, est une invitation au dépaysement. Chaussez vos raquettes, attelez les chiens au traîneau, les solutions pour s'évader ne manque pas. 80 km de piste de ski de fond sur deux sites d'exception sont même à votre disposition avec le Plateau des confins, et le Plateau de Beauregard.
Traditionnelle et actuelle, animée et paisible, familiale et sportive, La Clusaz prend son essence dans ses contradictions, et séduit ses visiteurs par son caractère insondable.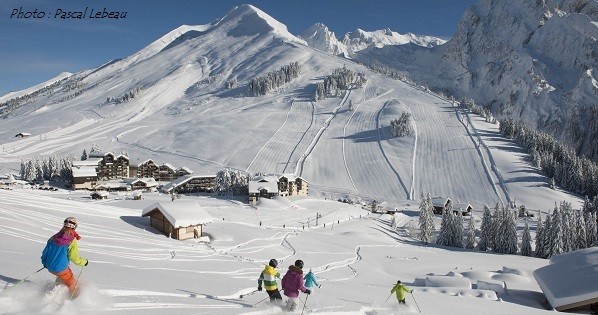 Domaine skiable et autres activités nordiques
Ouverture programmée du 23 novembre 2013 au 27 avril 2014
Ski alpin :
220 Km de pistes/84 pistes
Haut des pistes : 2.600 m
Bas des pistes : 1.100 m
Remontées mécaniques : 52
• 23 pistes vertes
• 30 pistes bleus
• 24 pistes rouges
• 7 pistes noiresPlan des pistes

Forfait :
Journée : Ad. 34,80 €
Enf. 27.2€
Forfait ski 6 jours : Ad. 184,5 €
Enf. 134€

Tarifs de tous les forfaits.

Ski de fond :
50 km de pistes
Tarifs nordiques : Ad. 7.5 €.
Enft. 4 €.Autre activités neige :
Sentiers raquette : 20 km
Sentiers piétons (damés) : 35 km
Snowparks : 1
Luge : 1Site domaine de La Clusaz.
Les bons plans :
• Séjour de dernière minute.. Profitez de promo dernière minute pour vos vacances ski à la Clusaz. De -5 % à -20 % sur la location de l'appartement ou chalet du 8 mars au 15 mars 2014 !!! Des studios sont encore disponibles à partir de 159€/pers. Renseignements ici.
• Pour ceux qui découvrent le ski. C'est le moment de vous lancer ! Du 04 janvier au 15 février et du 15 mars au 26 avril 2014, profitez du pack découverte ski/alpin : 260 € par personne (au lieu de 370 € sur place)
– Forfait Adulte 5 jours : Domaine La Clusaz/Manigod
– Location de materiel 5 jours: Pack Bleu + cours de ski collectif (ESF) 5 demi-journées : débutant.
Et comme si ce n'était pas assez, la station de La Clusaz, vous rembourse le reste de la semaine, si le ski n'est pas votre tasse de thé. Réservations.