Le printemps est là et Travis Rice touche à la fin des trois ans de travail qui lui ont été nécessaires pour produire son nouveau film de snowboard : The Fourth Phase.
Travis Rice et son crew sont de retour ! Après The Community Project puis les fameux That's it, That's All et The Art of Flight, ils remettent le couvert avec un nouvel opus, sobrement baptisé The Fourth Phase, qui sortira sur les écrans du monde entier le 2 octobre prochain. Si vous aviez manqué le premier teaser, le voici.
Mais alors, à quoi peut on s'attendre dans ce nouveau film ?
→ Travis Rice va mettre la barre encore plus haut
Nul doute à ce sujet, The Fourth Phase va entrer très rapidement au Panthéon des films de snowboard en repousser les limites techniques et cinématographiques de la discipline. Une production en 4K et des moyens démesurés, des images de paysage à couper le souffle, des spots incroyables : on est bel et bien dans la surproduction à la sauce américaine.
→ On va se délecter de magnifiques tricks
Quand on connaît Travis Rice et ses potes, on est pas trop inquiets sur la qualité snowboardistique du film. Travis et ses potes triés sur le volet (Mark Landvik et Pat Moore seront encore de la partie) vont nous gâter avec des lignes aussi esthétiques qu'engagées, des tricks fluides mais massifs et des spots aux petits oignons.
→ On va pouvoir faire Cocorico !
Les photos de Victor De Le Rue prise par Travis Rice, et les selfies de Victor avec Travis ont fait habilement fuiter l'info : on verra sans doute des images de Victor De Le Rue dans The Fourth Phase. Un pyrénéen à Hollywood 😉 Quand on vous dit que Travis Rice s'entoure des meilleurs !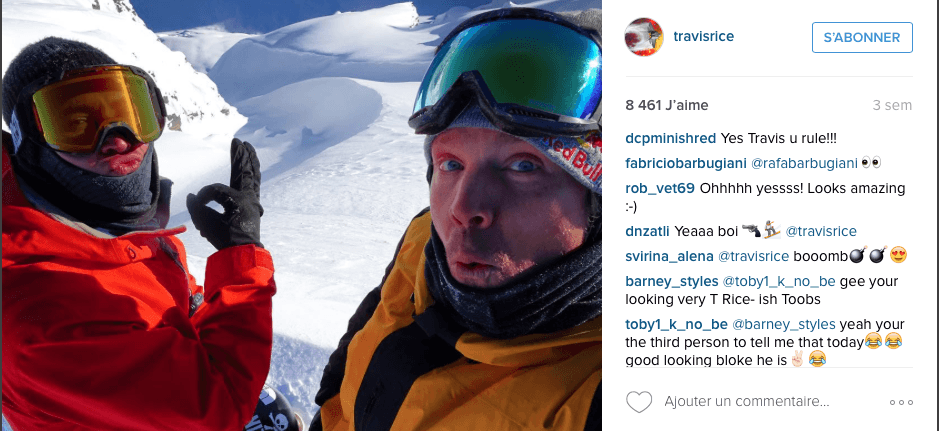 → La production va diffuser de temps en temps des appetizers
Histoire de nous tenir en haleine jusqu'au 2 octobre, la production distillera sans doute des infos (et quelques vidéos ?) au compte goutte. La dernière en date, c'est ce clip du 723ème jour de tournage. Profitez en, car il faudra patienter un peu pour la suite ! Rendez vous le 2 Octobre.