Pour son nouveau film de ski « Sedna« , Thibaud Duchosal a emmené son crew de riders au Groenland, pour skier dans les fjords et sur les faces alentours.Anne Flore Marxer, Richard Amacker, Nicolas Boidevezi et Phil Meier l'ont accompagné dans cette aventure. A bord de leur bateau, ils ont navigué entre les icebergs, avant de chausser les skis de rando ou splitboard pour rider les magnifiques faces immaculées. Alors que le film est sorti vendredi en avant première à Paris, on en a profité pour poser quelques questions à Thibaud Duchosal, rider, mais aussi producteur de ce nouveau film, nommé Sedna en hommage à la déesse Inuit.
Salut Thibaud ! Alors comment s'est passé ce trip au Groenland ?
Comme dans un rêve ! Lors de notre arrivée, on s'est pris une tempête de neige qui a duré 2/3 jours. Bilan : 30/40cm de neige fraîche. Puis on a eu ensuite une semaine de grand beau ! La neige était légère, le ciel bleu, on a eu aussi des icebergs dans les fjords… Bref, toutes les conditions étaient réunies pour faire des images de folie. Le bateau est la formule idéale pour découvrir ce pays, même s'il a fallu s'adapter aux règles de vie à bord, ce qui a été plus difficile pour certains (je ne balancerai pas de noms ;). Le Groenland offre des choix de lignes à l'infini, avec un accès relativement simple et des dénivelés moyens de 1500 mètres, et pas une âme qui vive aux environs. On a là bas un sentiment assez fort d'immensité, d'être seul face aux éléments, ce qui est génial. Les paysages sont magiques, et on en a profité au maximum… Le fait de vivre sur le bateau nous a aussi permis de faire des runs jusqu'à 10/11 heures du soir, avec les toutes dernières lueurs du crépuscule. Bref, ce sont des moments magiques et un voyage que je recommande vivement. Et je crois que si tu poses la question aux membres du crew, tous te diront la même chose !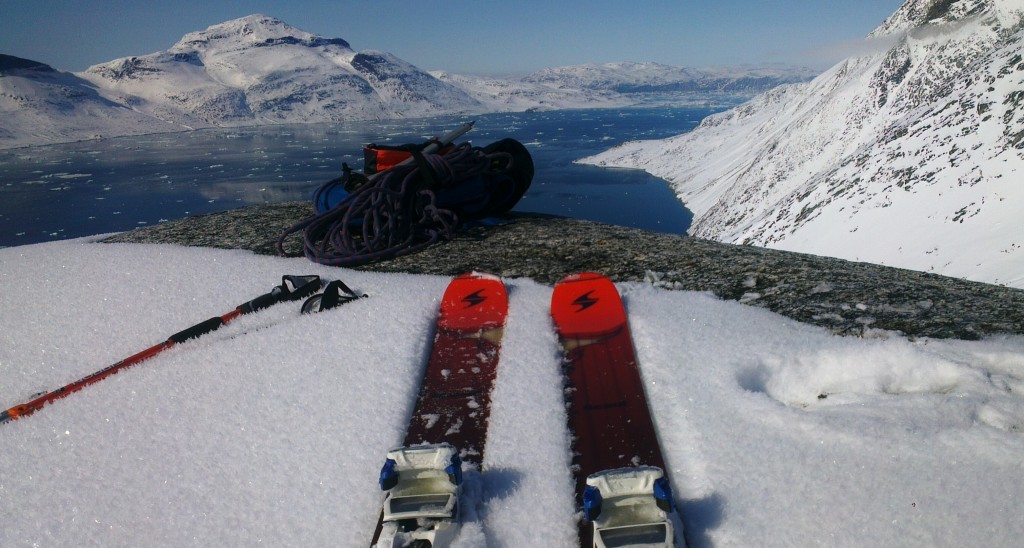 Comment as tu choisis les riders ?
J'ai proposé cette aventure aux riders avec qui nous avons l'habitude de bosser, et tous ont immédiatement adhéré à ce projet. On voulait un crew un peu mixte (ski/snowboard) avec une présence féminine. On retrouve donc dans ce film Anne-Flore Marxer, Richard Amacker, Nicolas Boidevezi et Phil Meier. Et ce mélange a été parfait. C'est très important qu'il y ait une bonne ambiance /solidarité dans l'équipe… surtout quand tu es sur un bateau deux semaines et que tout le monde doit cohabiter, et donc faire des efforts. J'ai vécu dans le passé des ambiances pesantes et j'essaye maintenant d'éviter ça à tout prix !
N'était il pas trop difficile pour toi de gérer de front ton double rôle de rider- producteur sur Sedna ?
Cela se fait assez naturellement maintenant puisque j'ai déjà produit nos deux derniers films Eye of the Storm et Rise. Laurent Jamet et moi formons un bon duo, qu'on a un peu élargi au Groenland avec Andy Collet et Stef Godin. J'essaye de décharger les gars de toutes les tâches qui concernent le producteur. Un film, c'est plus de deux ans de travail qu'on gère principalement à deux. Laurent se concentre sur la réalisation, et moi je gère le reste. Combiner ce rôle avec celui de rider est finalement assez facile car j'organise depuis le début de ma carrière tous mes trips, je choisis avec qui je pars, les destinations, quoi et comment… du coup ce n'est qu'une suite logique. Néanmoins, quand les projets sont gros, mes tâches de producteur empiètent un peu sur le coté rider, et ça me frustre. Mais l'important est de faire un beau film, alors je prends sur moi.
Où va t-on pouvoir voir le film après cette avant première ? 
Sedna va faire la tournée des festivals de montagne et d'aventure… Une centaine de dates à travers le monde. On travaille également sur des soirées spéciales qui se tiendront cette hiver : Lausanne, Bourg Saint Maurice, d'autres dans des stations. En parallèle, on sort aussi le DVD du film qu'on a pu financer grâce au crowdfunding lancé en octobre dernier sur Fosburit. Au passage, j'en profite pour remercier tous nos contributeurs car c'est grâce à eux qu'on a pu boucler le film en maintenant une qualité élevée. Donc nous sommes vraiment reconnaissants envers tous ces passionnés qui nous ont soutenu ! On réfléchit également pour mettre le film en VOD… tout ça n'est pas encore bien défini.
Quels sont tes projets maintenant ? 
Je suis encore en plein dans Sedna… mais comme je le disais, un projet met minimum deux ans entre l'idée qui germe et le fait de le découvrir à l'écran. Rien n'est encore concret, mais j'ai quelques idées pour des formats courts en Écosse et dans les Dolomites. Puis le gros projet devrait se dérouler en Russie. On part à la découverte de territoires lointains et isolés. J'ai vu peu d'images de la zone qu'on cible… et si vous êtes curieux et que vous voulez en savoir plus, alors je vous invite à suivre ma page facebook, où je dévoilerai les infos tout au long de l'hiver !