Pour l'hiver 2019/2020, le Salomon S/Force débarque dans la galaxie et fait frémir les jedis du ski de piste. Attention, le S/Force se skie avec une paire de Salomon S/Pro 120 et s'adresse plutôt aux grands maîtres qu'aux jeunes padawans. Gros plan sur le fleuron de la gamme racing de Salomon, qui vous permettra de dévaler les pistes à la vitesse de la lumière.
En 2020, on ne fait pas un ski d'exception sans passer par la case de l'ingénierie et de l'innovation. Le Salomon S/Force Bold est donc un bijou de technologies, conçu pour les skieurs confirmés à experts qui exigent une vitesse et une stabilité optimales pour pouvoir attaquer chaque courbe en toute confiance et enchaîner les virages carvés avec style. C'est le top de la gamme S, la section racing des skis Salomon.
Ski Salomon S/Force, technologies de pointe pour modèle haut de gamme
Le service de R & D de Salomon a développé de nouvelles technologies pour permettre au S/Force Bold d'être l'un des skis Salomon les plus stables, rapides et puissants :
La plaque Edge Amplifier, pour une transmission totale de l'énergie du skieur aux carres et obtenir une accroche incomparable.
La spatule Crossover (insert TPU et mélange fibres de verre/carbone), pour accroître la stabilité sur piste quelles que soient les conditions, en absorbant les vibrations sur piste dégradée et en maintenant un contact ski/neige constant sur piste damée.
Les chants ABS et les deux feuilles de titane, pour transmettre aux carres une puissance maximale sur toute la longueur du ski, virage après virage.
Et puisque les images parlent mieux que les mots, voici les Salomon S/Force Bold en action lors d'une séance de carving nocturne exécutée à la perfection par les athlètes Davide Simoncelli, Marielle Berger-Sabbatel et Bastien Midol.
Skis Salomon S/Force Bold, prix conseillé 799,90 €.
Les chaussures de ski Salomon S/Pro 120 pour contrôler la bête
Pour contrôler un tel ski à cette vitesse et avec ce niveau d'engagement, vous avez intérêt à avoir une paire de chaussures de ski à la hauteur, ou une bonne assurance (voire les deux !). Les Salomon S/Pro 120 sont habillées d'un noir mat, aussi sobre que la tenue du S/Force Bold. Elles cachent donc bien leur jeu et ont été conçues pour permettre au skieur de réaliser ses meilleures performances sans jamais compromettre sont confort.
Un confort et un fit vraiment exceptionnels

Le confort et le fit personnalisés sont vraiment les deux arguments forts de cette chaussure de ski Salomon. Alors que beaucoup de chaussures ont encore la réputation d'être rigides et douloureuses à la longue, la S/Pro 120 est certes réactive et performante, mais il n'empêche qu'on s'y sent comme dans des pantoufles grâce à ses technologies de personnalisation.
Ainsi, le procédé Custom Shell HD vous permet de thermoformer la coque et le collier à l'image de votre pied, et cela en dix minutes à peine. D'autre part, le double insert Coreframe 360 situé derrière et sous la chaussure permet à la forme et à la rigidité de la chaussure d'être bien stables une fois personnalisées. Attention, ces opérations de customisation du fit doivent être réalisées par des professionnels qualifiés chez un boot-fitter. Nous vous proposons ce service dans notre magasin Glisshop. Les tarifs sont fixés sur-mesure au magasin, selon la nature de l'opération à réaliser.
En plus de la customisation, qui vous permettent d'adapter le volume chaussant à votre morphologie, le confort de base est déjà excellent grâce au chausson sans couture et à la facilité de chaussage/déchaussage.
Une puissance et un contrôle exemplaires
Niveau performances, vous êtes servis avec un flex de 120 pour pouvoir rentrer fort dans les virages, 4 crochets 3D en aluminium pour un maintien optimal, et un strap de 45 mm qui vous permet d'ajuster la réponse en appui languette. Les prises d'appuis sont fermes et précises, et on profite d'un rebond et de sensations maximales virage après virage.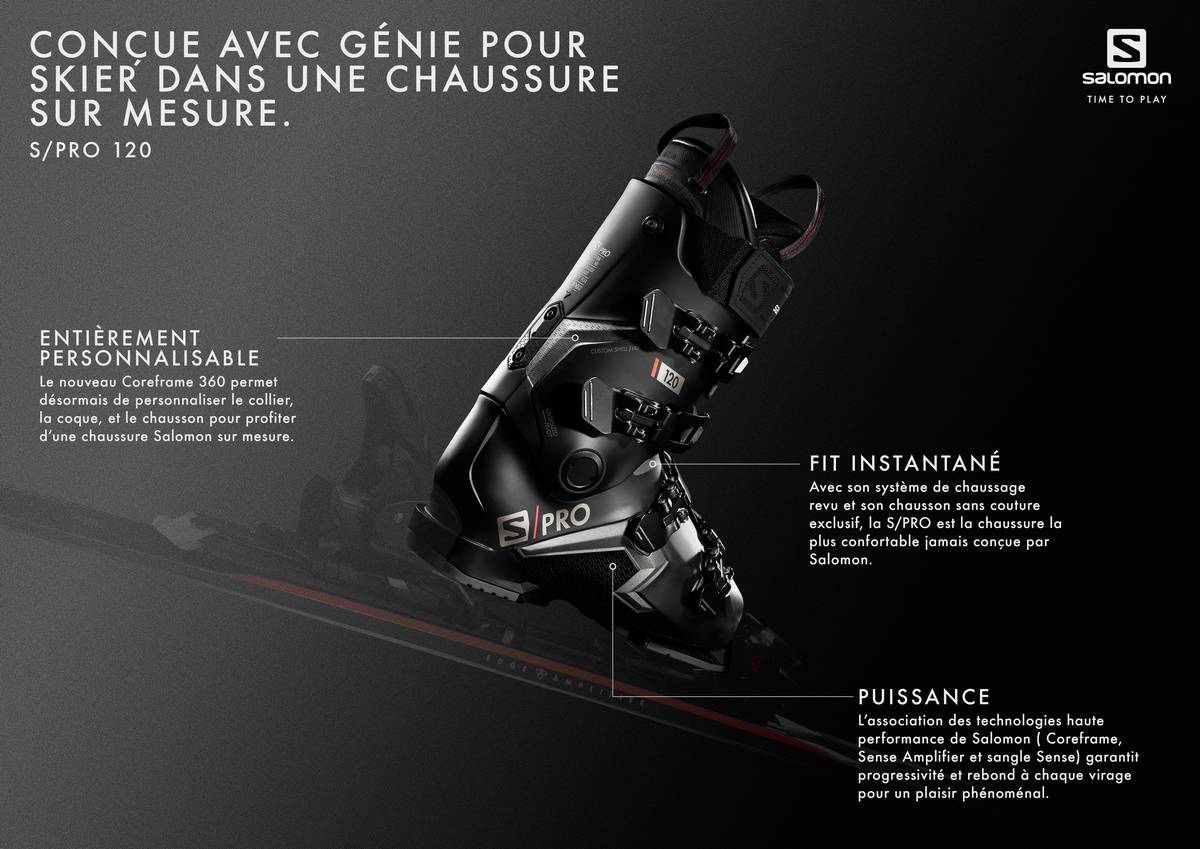 Salomon nous gratifie d'une très belle vidéo de présentation qui passe en revue les différentes technologies qui font le confort et les performances de la S/Pro 120, élue « Gear Of The Year 2020 » par Ski Magazine.
Chaussures de ski Salomon S/Pro 120, prix conseillé 459,90 €.