Le SFR Tour s'est terminé sur une soirée de halfpipe, après 3 étapes de slopestyle. En gagnant à Tignes, Kevin Rolland et Marie Martinod ont concrétisé le scénario idéal !
Seule étape halfpipe de la tournée SFR cette année, le contest de Tignes avait forcément un petit goût de X Games. Classé Platinium par l'AFP World Tour (même niveau que les épreuves des X Games), il avait attiré quelques uns des meilleurs skieurs de la discipline :
Alex Ferreira, Aaron Blunck, Simon D'Artois ou encore Mike Riddle, le médaillé d'argent de Sochi, et bien entendu nos riders français. 3 d'entre eux étaient parvenus en finale, Thomas Krief, Ben Valentin & Kevin Rolland, de quoi donner le sourire au public, déjà acquis à leur cause… 3000 personnes s'étaient massées en bas du pipe et n'attendaient qu'une chose : une victoire d'un frenchie, ou mieux, un doublé !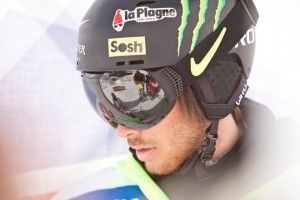 Et on peut dire que leurs espoirs ont été largement concrétisés ! Chez les filles, pour finir en beauté sa saison, Marie Martinod s'offre la victoire, devant Brita Sigourney et Anaïs Caradeux. Vainqueur des qualif', avec de l'amplitude et des runs massifs, Brita n'a pas réussi à transformer l'essai en finale avec pas mal d'erreurs (mais un Cork 9 dingue). Marie, irréprochable, enchaîne les tricks tout en fluidité et en maîtrise (ce Mc Twist… et ce 900, parfaits !) et accroche le meilleur score. Cerise sur le gâteau, Anaïs Caradeux monte sur la 3ème place du podium.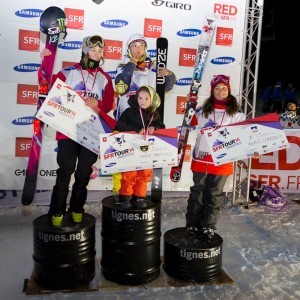 Chez les garçons, les frenchies, super chauds, prennent tous les risques. Malheureusement, ça ne passe pas pour Toto Krief, qui chute au premier, puis au second run. En revanche, ça paye pour son pote Ben Valentin, impressionnant d'amplitude et de style, sur un premier run propre. Il monte encore la barre un peu plus haute au 2nd passage, avec un run stylé composé d'un switch cork 1080, un alley oop flat 5.4 japan, un back to back 9 et d'un gros double cork 12 !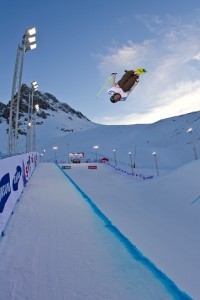 Ca score et il parvient à accrocher la première place ! Mais quand on sait qu'il reste Kevin Rolland au départ, rien n'est joué. Le 2nd run de Kevin est solide et sans bavures : back to back 9, double rodéo 10, switch cork 7 et double cork 12…Rien à redire, Kevin prend la tête, Ben est second, le public est aux anges ! Le 3ème run bonus (pour les 5 meilleurs uniquement) ne change rien au classement, Kevin conserve la tête devant Ben et le Canadien Simon d'Artois. Cette victoire de Kevin clôt de la plus belle manière son hiver, après sa médaille d'argent aux X Games et sa médaille de bronze à Sochi. Une saison de fou !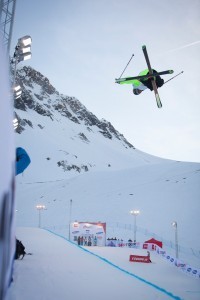 Après cette épreuve de Tignes, Kevin Rolland est second au classement Halfpipe de l'AFP, juste derrière David Wise (Toto Krief 11ème, Ben Valentin 14ème) ! Chez les filles, Marie Martinod est elle aussi seconde de ce classement AFP Halfpipe derrière Maddie Bowman, Anaïs Caradeux occupant la 5ème place.
La saison de compétition est terminée pour les frenchies. Kevin va se consacrer à son event de la Plagne, le Shred It, avant de prendre un peu de repos, bien mérité après cet hiver très intense.