Jérémy Pancras, skieur oui mais pas que… car ce week end j'étais reporter infiltré pour Glisshop.com 🙂
Le High Five Festival ou plus communément appelé par les skieurs « notre fête de la bière à nous » a eu lieu ce week-end à Annecy. Beau temps et organisation parfaites au RDV, pour les petits chanceux qui étaient sur place rien ne m'a déplu. L'organisation (Like That Agency) dirigée par l'emblématique Gaylord Pedretti s'est mise à pied d'oeuvre pour nous offrir un IF3 embelli et démesurément plus grand.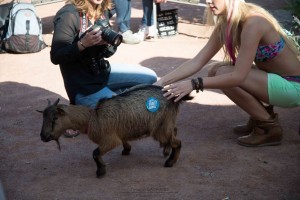 La liste des films de freeski comme de freeride était ultra-complète et pour ma part je soulignerais 3 titres qui sont mes incontournables de l'année : One of Those Days 2 (Candide Thovex) : si vous n'avez pas vu le 1 qui traine dans tous les best of YouTube depuis 1 an, regardez le et dites vous que le second est au moins 2 fois mieux !
Finess (the Bunch crew) si le freestyle devait avoir une définition physique ce serait celle de ces petits bonhommes venus de Suède qui ont pour une grande partie gagné ou pris part aux finales du concours SuperUnknown (level 1).
Enfin The Recruitment (Super Proof Inc.), le film produit par le freerideur Sean Pettit et réalisé par le Freestyler Leigh Powis, nous plonge dans un univers étrange et scénarisé avec braquage à main armé et ski freestyle, un pur chef d'oeuvre de réalisation avec du gros freestyle qui prend aux tripes comme on l'aime : du bonheur télévisuel.
Un gros set up d'artistes, une baraque à hot dogs dans l'enceinte de la boite, des milliers de petits et moins petits fans ou curieux, une ambiance détendue, des cadeaux pour tous, des films de qualité, de nombreux riders venus du monde entier, un restaurant éphémère à l'entrée du cinéma, du pop corn gratuit pour toutes les séances de cinéma, un airbag géant et le coeur de tous conquis.
Enfin bref, le High Five Festival je valide, je reviendrai et je vous incite à en faire de même que vous soyez un mordu de freestyle ou un simple badaud qui aime les cadeaux vous y trouverez votre compte.
La bise, PanPan.
Crédit photos : Thomas Gagnaire -> http://www.facebook.com/ThomasGagnairePhotography?ref=ts&fref=ts