Sandra Lahnsteiner, Matilda Rapaport et Janina Kuzma nous parlent du film de ski féminin qui engage et fait le buzz : « Pure » de Shades of Winter. 
Nous y voilà ! Enfin un film de ski 100% féminin qui n'a rien à envier à ses homologues masculins ! Pente raide, kicker gigantesque, spines d'Alaska et pillows japonais, engagement, style et technicité, tout y est. Janina Kuzma, Matilda Rapaport, Caja Schoepf, Nat Segal, Melissa Presslaber et les autres rideuses engagées dans le film de Sandra Lahnsteiner livrent leur meilleur ski, et ça envoie ! « Pure », le nouveau film de Shades of Winter, la boîte de production de la skieuse Sandra Lahnsteiner s'impose comme une des sensations de l'automne, réalisant le pari d'un film 100% féminin captivant, grâce à une réalisation ultra pro.
Sandra Lahnsteiner, la réalisatrice, Matilda Rapaport (5ème du Freeride World Tour, et Janina Kuzma (qui revient au Freeride après un break « pipe » pour les J.O) ont répondu à 3 questions chacune : de quoi vous donner envie d'aller voir Pure au High Five Festival d'Annecy ce week end  !
SANDRA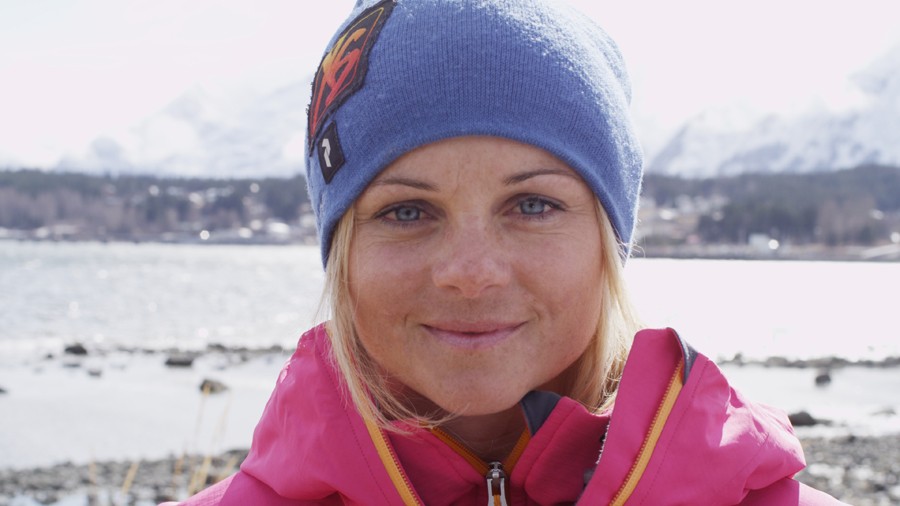 Sandra, comment t'es venue l'idée de produire des films de ski ?
Depuis le début de ma carrière de skieuse, j'ai toujours aimé travailler avec les photographes et les caméramens en montagne, tenter de faire de belles images, créatives. Je trouvais qu'il manquait vraiment de films de ski féminin, et j'ai donc eu envie de me lancer. C'est ainsi qu'est né mon premier film en tant que productrice «As we are» en 2009. Je n'aurais pas pensé à ce moment là que l'aventure allait se transformer en quelque chose de professionnel comme c'est désormais le cas avec 'Shades of Winter' !
Tu as également une part de ski dans le film, comment gères tu ces deux challenges ?
C'est vrai que switcher entre ces deux rôles est le plus dur ! Quand nous sommes en trip, je dois échanger avec l'équipe technique sur les prises de vue, discuter avec les guides des risques éventuels, penser au budget et à la façon dont on l'utilise, puis quand je suis au sommet de ma ligne, je dois me concentrer sur mon ski et débrancher le reste ! Ce n'est pas évident.
Vous avez filmé un peu partout dans le monde… Quelles destinations avez vous choisi ?
Nous avons skié à Niseko, au Japon, mais aussi en Autriche, en Italie, en Suisse et bien sûr au Canada et en Alaska. Au Japon, on a une poudreuse incroyable, avec des pillows, c'est parfait pour mettre des backflips et des gros slashs ! J'ai fait ce trip avec Evelina Nilsson, Nat Segal, et Caja Schöpf, et nous en avons vraiment profité. Il y a aussi de nombreuses sessions dans les Alpes, et notamment un épisode backcountry avec Emma Dahlström, Slivia Bertagna et Camillia Berra. Et bien sûr les meilleures images du Nine Queens de Livigno. Ensuite, certaines filles ont shooté chez elles, comme Nadia Samer au Canada et Melissa Presslaber en Suisse, dans une mission pente raide en solo sur la face nord du Fletschhorn.  Je suis aussi allée en Alaska, en Avril, parce que c'est incontournable, avec Janina Kuzma et Matilda Rapaport, du côté d'Haines.
Janina, quel est ton meilleur souvenir de Shades of Winter ?
L'Alaska ! Le 4ème jour de notre trip là bas a été le meilleur de ma vie : la neige était excellente, on a pu rider des lignes incroyables, avec de gros sauts de barres. Un challenge, et d'énormes sensations.
Où aimerais tu aller rider et filmer l'année prochaine ?
Chez moi en Nouvelle Zélande, avec des images d'héliski, mais aussi de pipe et même de slopestyle…J'aimerais également skier en Russie et en Inde.
Pure : Qu'évoque le titre du film pour toi ?
La liberté. Quand tu skies une nouvelle ligne ou que tu te gaves de poudre, tu redeviens pure, innocent : tu ne penses plus à rien, seulement à l'instant. C'est seulement quand ça s'arrête, que tu te reprend la réalité en pleine face !
MATILDA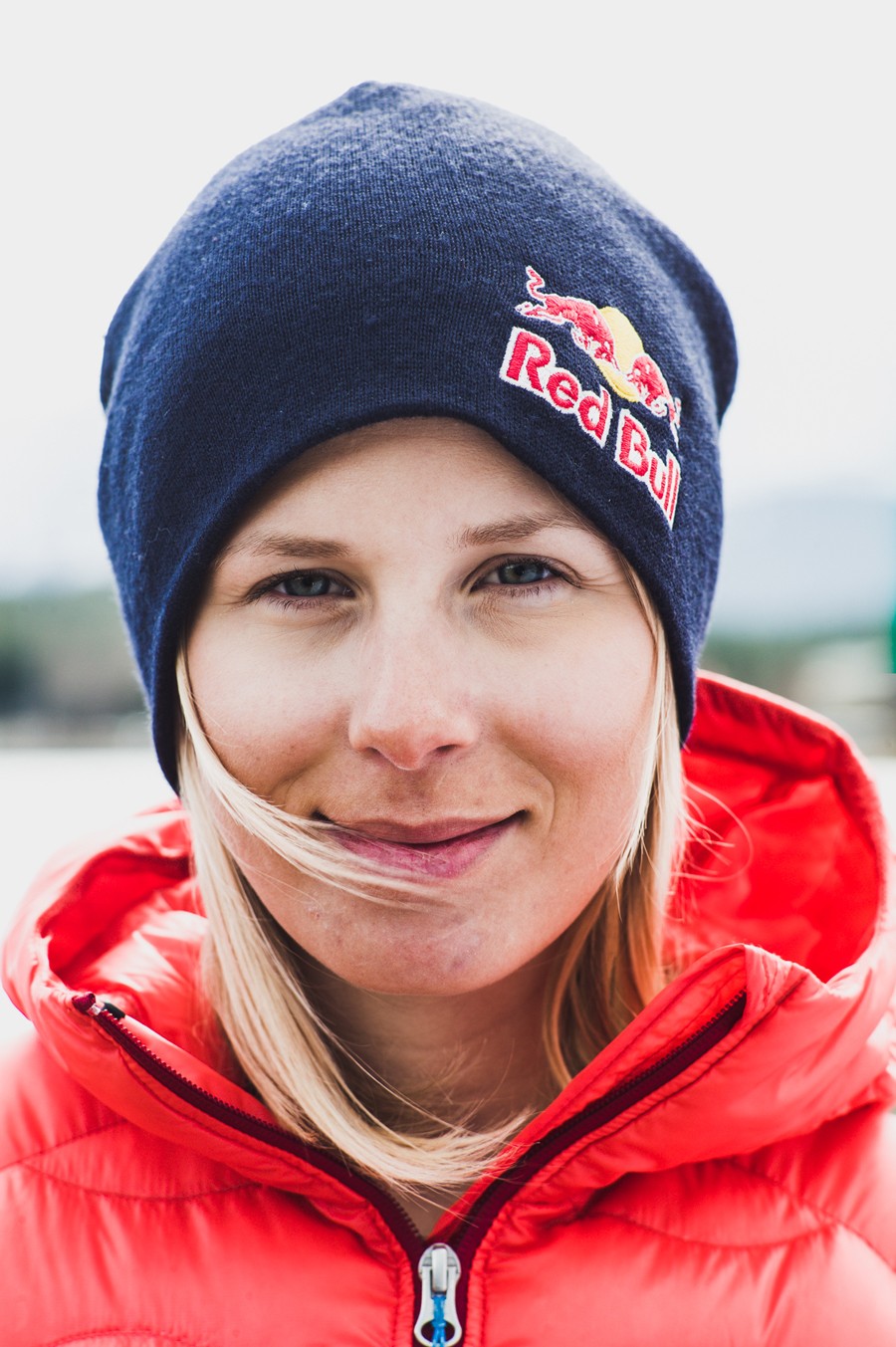 Matilda, tu as eu chaud cette année en Alaska…Comment gères tu le risque, la peur quand tu skie ?
La frontière est mince entre l'appréhension, nécessaire pour gérer le risque et rester prudents, et la peur incontrôlée, qui peut augmenter les risques ! Je me connais bien, et quand je sens que je passe cette « ligne », il est temps de renoncer. Bien sûr, ce n'est pas la garantie qu'il ne m'arrivera rien, parfois l'imprévu survient ! Cette année, je ne suis pas passée loin en Alaska, prise dans une coulée, et cela m'a fait réaliser combien il était difficile de prévoir ce type d'accident. Nous devons accepter le risque et évoluer avec.
Tu habites désormais en Suisse, pourquoi avoir choisi les Alpes (Matilda est suédoise, ndrl) ?
J'ai skié un peu partout dans le monde, et les Alpes sont sans doute le meilleur endroit ! C'est raide, varié, il y a souvent de la bonne neige, et on est rapidement au sommet de runs incroyables ! On peut skier dans les arbres, en haute montagne, faire de la rando, de la pente raide : tout est possible ici! Il y a peu d'endroits dans le monde où tout est rassemblé ainsi.
Pourquoi doit on aller voir Pure ?
Le côté cinématographique est très réussi avec de magnifiques images, et Pure rassemble tous les styles de ski, avec un très bon niveau global. C'est ça qui fait un bon film non ?