En Novembre dernier, nous vous présentions en détails le Freeride World Tour 2020. Une compétition en 5 étapes (Japon, Canada, Andorre, Autriche et Suisse) au cours desquelles s'affrontent les plus grands riders de la planète. Malheureusement, suite aux dernières mesures gouvernementales visant à limiter la propagation du Coronavirus, l'étape finale de Verbier Xtreme (prévue du 28 Mars au 5 Avril 2020) a dû être annulée. Les champions de cette saison 2020 ont donc été couronnés le weekend dernier, après l'épreuve de Fieberbrunn en Autriche. Voici le classement de ce Freeride World Tour 2020 ainsi que les performances des français lors de cette compétition.
FWT 2020 – Ski Hommes
C'est un jeune talent américain qui monte sur la première marche du podium cette année. Isaac Freeland devient champion du monde de ski freeride 2020 et il remporte au passage le titre de Rookie of the year. Il s'impose devant le suédois Kristofer Turdell (champion FWT 2018) et son compatriote américain Andrew Pollard. À noter, le français Léo Slemett (champion FWT 2017) remporte l'étape d'Andorre mais termine seulement 14ème au classement cette année. Il était hélas absent sur les deux premières étapes du tour suite à sa blessure de début de saison. L'autre français de la catégorie, Wadeck Gorak , a été contraint de déclarer forfait après sa chute spectaculaire au Canada.
FWT 2020 – Ski Femmes
Pour la troisième année consécutive, c'est l'italienne Arianna Tricomi qui remporte le titre de championne du monde malgré une blessure lors de l'étape de Kicking Horse Golden BC. Derrière elle, on retrouve la norvégienne Hedvig Wessel, victorieuse sur deux étapes du tour. Présente sur la compétition depuis 2013, l'américaine Jaclyn Paaso se classe en 3ème position. Quant à la néo-zélandaise Jessica Hotter (4ème au classement), elle reçoit le prix de Rookie of the year. La française Juliette Wilmann termine 7ème au classement avec une jolie 4ème place au Japon.
FWT 2020 – Snow Hommes
Bléssé et absent du FWT 2019, l'américain Nils Mindnich vole cette année la vedette à l'actuel tenant du titre, le français Victor De Le Rue. Ce dernier avait pourtant remporté la première étape d'Hakuba au Japon mais Nils a repris la tête du classement grâce à sa double victoire à Fieberbrunn en Autriche (l'étape d'Ordino-Arcalis ayant été reportée). Le triple champion du monde Sammy Luebke termine troisième du Freeride World Tour 2020.
FWT 2020 – Snow Femmes
Sans surprise, et avec trois victoires sur le Freeride World Tour 2020, la française Marion Haerty décroche son troisième titre de championne du monde freeride en snowboard. Avec sa victoire à Ordino Arcalís, l'australienne Michaela Davis-Meehan se classe deuxième devant l'américaine Erika Vikander.
Crédits Photos : FWT, Dom Daher & Jeremy Bernard
Classement du Freeride World Tour 2020
1/ Les podiums pour chaque catégorie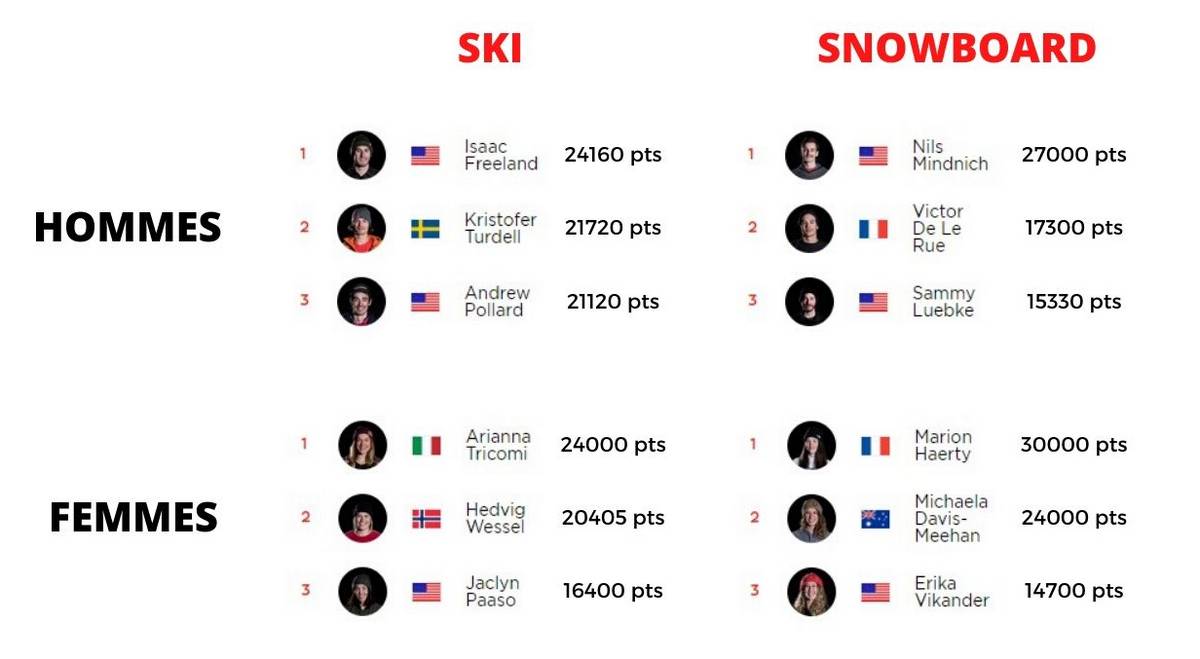 2/ Les vainqueurs sur chaque étape

3/ FWT 2020 en images
Vous pouvez retrouver toutes les vidéos des meilleurs runs de ce Freeride World Tour 2020 sur le site de la compétition :
Rendez-vous l'hiver prochain pour le Freeride World Tour 2021…
Winter Your Life !