Voilà bien une marque que l'on ne présente plus depuis longtemps… En même temps, qui ne connait pas Eastpak ? Ce fameux sac à dos qui a marqué toute une génération dans les années 90, celui qu'il fallait absolument avoir, l'indispensable du collège à l'université ! Plus de 40 ans après sa création, le sac à dos Eastpak reste indémodable. Voici donc un petit tour d'horizon de la nouvelle collection :
Sac à dos Padded Pack'R
On commence donc par le modèle emblématique de chez Eastpak, le sac à dos Padded Pack'R qui a toujours autant de succès auprès des jeunes. Sans l'ombre d'une ride, ce sac à dos a su traverser les années depuis sa sortie en 1976. Un design simple, pratique et passe partout mais surtout une multitude d'imprimés, voilà comment on devient l'intemporel par excellence. Sa capacité de 24L est parfaitement adaptée à une utilisation quotidienne. Ultra robuste et résistant à l'eau, il est garanti 30 ans comme tous les sacs de la marque Eastpak.
Tarif : 49,90€
Sac à dos Out Of Office
Petit frère du célèbre Padded Pack'R, le sac à dos Out Of Office reprend sensiblement les mêmes lignes et caractéristiques que son aîné. Un peu plus grand, sa capacité de 27L permet de glisser un ordinateur de 13 pouces à l'intérieur. Quelques centimètres de plus qui lui confèrent également une allure plus élancée, il pourra donc facilement vous accompagner au bureau comme dans toutes vos activités citadines.
Tarif : 59€
Sac à dos Floid
Avec son look résolument plus moderne et très urbain, le sac à dos Floid offre une capacité de 16L. Un petit volume pourtant capable d'accueillir un ordinateur de 15 pouces ! Pratique, il dispose de nombreuses poches multi-fonctions, y compris une pour votre bouteille d'eau.
Tarif : 72€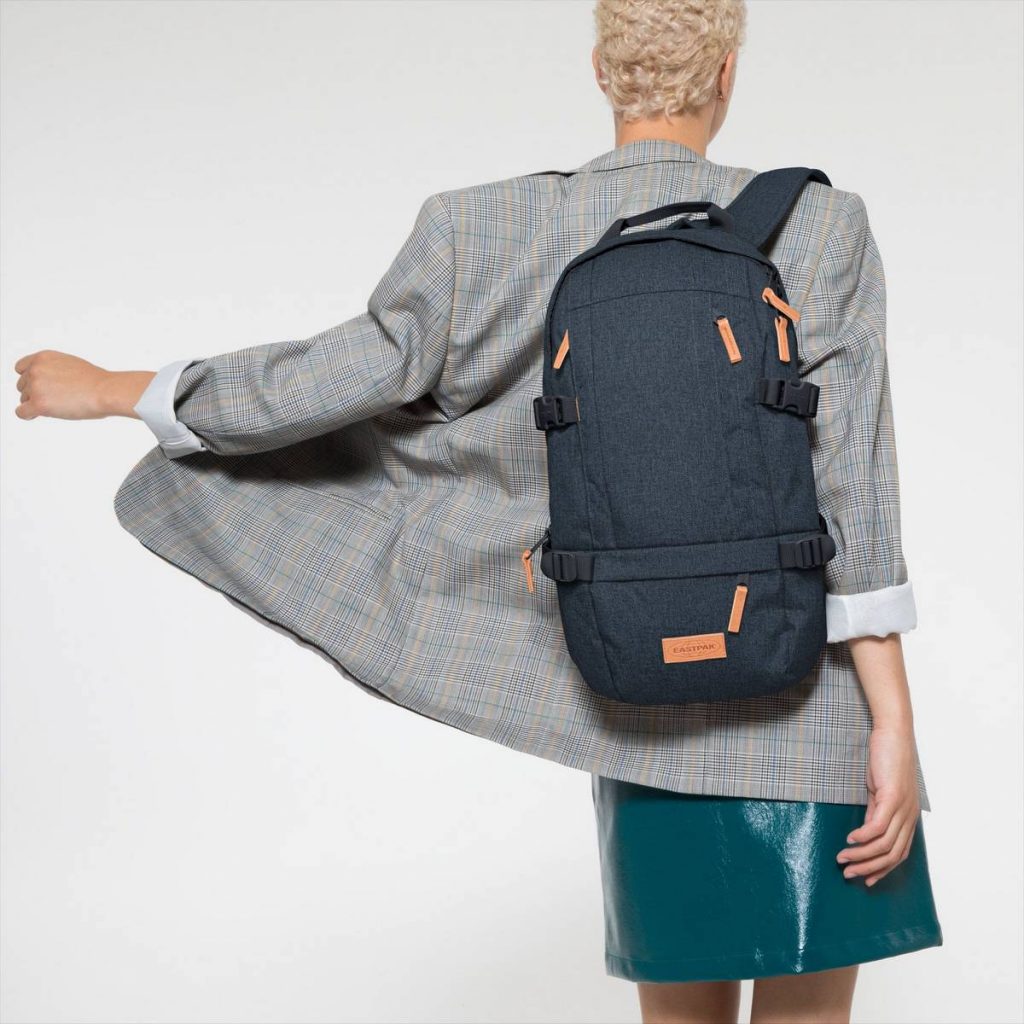 Sacs à dos Eastpak Smalker et Volker
On termine avec les sacs à dos Smalker et Volker qui disposent respectivement d'un volume de 26 et 35L permettant tous deux le transport d'un ordinateur de 15 pouces. Cette nouvelle génération de sacs à dos Eastpak propose un design cubique ergonomique avec une confection en nylon. Des sacs compartimentés pour être bien organisé !
Tarif : entre 82€ et 112€
Sacs de voyage Eastpak
Vous ne le saviez peut-être pas mais la marque Eastpak propose également des sacs de voyage ! Pour les courts séjours, nous vous proposons le sac Stand avec une capacité de 34L et des dimensions autorisées en cabine avec la plupart des compagnies aériennes. Au quotidien, c'est également un très bon compagnon pour la salle de sport. Si votre voyage nécessite d'emporter plus d'affaires, optez pour le sac Station et son volume plus conséquent de 58L. Enfin, on ne saurait que trop vous conseiller le sac à roulettes Tranverz et son format valise souple ultra pratique ! Il offre tous les avantages d'une valise classique sans les inconvénients. Léger mais bien compartimenté, il est facile à transporter grâce à sa poignée télescopique et ses roulettes. Le sac Tranverz taille S dispose d'un volume spacieux de 42L et sera pourtant accepté comme bagage cabine par bon nombre de compagnies du fait de ses côtes minimalistes (51 x 32,5 x 23). Bonus : cadenas TSA Lock intégré !
Tarifs : entre 62 et 132€ selon modèle